Calyx / Shadows / Windrush: Movement of the People
Sandrine Monin / Christopher Bruce / Sharon Watson
Phoenix Dance Theatre
Northern Stage, Newcastle
–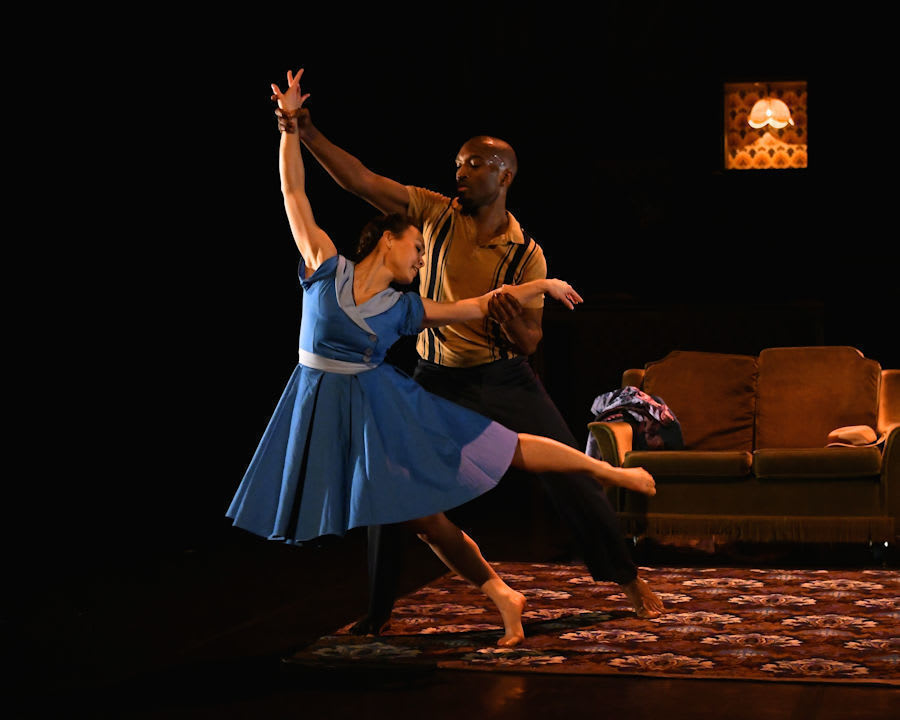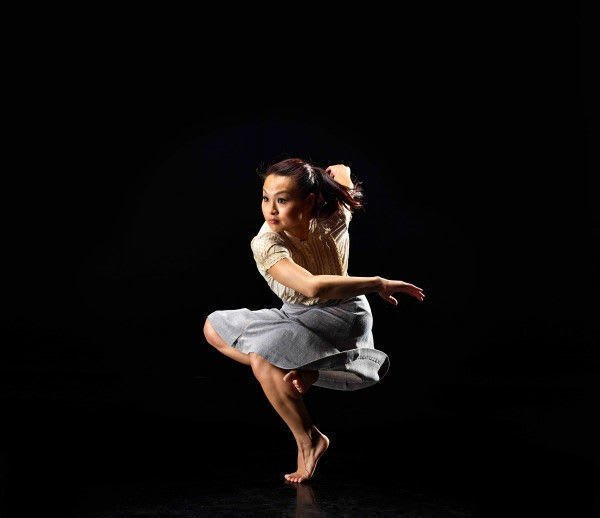 Calyx, created in 2017 by dancer and first-time choreographer Sandrine Monin, is inspired by French poet Charles Baudelaire's 1861 collection Les Fleurs du Mal (The Flowers of Evil), the first book of which is entitled Spleen et Idéal, which sums up his ambiguous attitude towards love—indeed, towards life. A verse from Le Flacon says it all: "stinking like Lazarus ripping his shroud, the ghost of an old, rancid yet charming love affair dies as it is reborn."
This ambiguity, this decadence, is reflected in the choreography. Four boxes sit on the stage. They have neither top nor bottom and the sides are made from a gauze-like material. A dancer emerges from one, feet first. From within the others, limbs, a face, press against the sides and gradually three more dancers emerge—two men, two women in all.
They interact, attraction giving way to repulsion, then reversing again. The boxes are moved, piled up, used to trap a dancer who escapes or is released. The movement is fluid, beautiful and yet occasionally threatening and even a little agonising, expressing the ambiguity inherent in Baudelaire's work, and yet Monin does find some resolution at the end.
The costumes by Emma Louise James (are they veins or some kind of tendrils decorating them?), Luke Heywood's dim, mysterious lighting, Hughbon Condor's realisation of Monin's design concept and Roberto David Rusconi's score, all contribute to an overall experience which is visually beautiful but viscerally troubling.
There's a three-minute pause—just enough time to change the setting—and we move into Christopher Bruce's ten-minute piece Shadows.
I'm a great fan of Bruce's work and this is the second time I have seen Phoenix do this piece. It is as thought-provoking and moving the second time around as it was the first, three years or so ago.
Two couples sit at a table, their clothing drab. The lighting (by John B Read) is grey, colourless. One couple has their backs to the audience, the other—looking older—is facing them. The girl breaks away. It's as if she is trapped and trying to escape but she returns. Defeated? It feels like it. The boy, perhaps even more anguished, does the same. Interactions occur between them. There's a sense of barely controlled fear. And there's a sort of resolution—an ending and a beginning—as they take their cases and move into a pool of light where they stand, recalling every picture of every displaced family you have ever seen.
And the music—Avro Pärt's Fratres for violin and piano—adds so much, taking it from the story of a single family to something much wider. It is—as I said in my first review—both microcosm and macrocosm.
Following the interval, we have Windrush: Movement of the People, a new work by the company's Artistic Director Sharon Watson. It's a timely presentation, not just because it celebrates the 70th anniversary of the arrival of the SS Empire Windrush but also because of the furore over the Home Office's demanding their descendants must prove their right to remain, which gives an added poignancy to the use of the voice-over self-justifying extract from Enoch Powell's "Rivers of Blood" speech.
We go from their arrival and the reminder that the migrants were not just people seeking a better life but among them were nurses, midwives and care staff whom the newly born NHS had invited—begged—to come to Britain. This section is accompanied by Prof Laura Serrant's poem "You called… and we came."
We see their reception—there's a chilling section in which British housewives, all wearing white full-face masks, hang out their clothes to dry on lines stretched out across the stage, with each white garment bearing one black letter spelling out "No blacks", "No dogs", "No Irish".
But they settle in; they create homes; they get to know their white neighbours; black and white fall in love; black music excites and attracts white people and gradually the piece turns into a celebration of what Caribbean culture has brought to Britain.
Political dance theatre—who would have thought it? But it is and it works, and the cleverly constructed narrative and the use of Jamaican music and popular music of the time—Jim Reeves's "Welcome to my World" really took me back!—along with music specially composed for the piece, carry us through from the optimism of the arrival, through the cold lack of welcome, to acceptance and integration and into a celebration Caribbean culture's contribution of British culture.
The end is joyous and the audience erupted into an outburst of whistles, whoops and applause that went on and on.
Reviewer: Peter Lathan