Camille: The Dark Angel
Camille O'Sullivan
Apollo Theatre, Shaftesbury Avenue
(2009)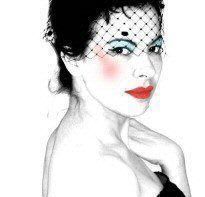 Camille O'Sullivan grins at us. It is near the beginning of her set, and she is divesting herself of the first of many layers of clothing she'll take off as the night goes on. Elaborately wriggling and writhing her way out of a long black silk skirt, she smiles cheekily, and this sums her up exactly: a mix of smouldering European temptress and dishevelled Irish charmer. She's a bombshell, in every sense.
Having wowed at the Edinburgh Fringe, at other London venues and the world over, she brings her set to the West End for a limited Christmas run. It's traditional cabaret numbers, torch songs and chanteuse repertoire, performed with a devilish hint of tongue in cheek and constant punkish twist.
She's a hugely engaging performer. Between songs she murmurs into the microphone with her soft Irish lilt, in such contrast to the clout of her singing voice - appearing slightly scatty or even slightly drunk, it's a performance that's at once intimate and inscrutable. She sips wine - red, of course. She divests herself of layer after layer of clothing, wrenching each one off clumsily and unapologetically. She'll kneel on the stage in the passion of singing, and then after the song will look at us bashfully and carefully tip herself back onto her towering heels and upright. At one point, showing off her effortless connection with her fantastic band, she takes it upon herself to bunny-hop around the stage, her drummer providing a drumroll and flourish for each hop. At the beginning she warns us, "If you've never seen me before - good luck". She's not so dangerous though really, but endessly unpredictable, at times just a joker who you think would be great on a girl's night out, at others a deadly serious artiste.
And the songs themselves! Her voice can do anything: it swells and growls with anger, it can be a whisper that still fills the room, it can quaver with European emotion. At the same time though there's no diva showiness to her performance, no wavering up and down the octaves: she simply sings, and you feel this is simply what she was made to do. She can get carried away with the power of her voice, elongating every note and so sometimes bypassing consonants, so the lyrics can be hard to pick up. But when she sings clearly enough for you to pick up the story, it's scintillating.
She gives a mesmerising unaccompanied version of David Bowie's "The Port of Amsterdam", a tale of debauchery, bitterness and regret, stamping her foot for percussive impact. She smoulders through Nick Cave's "Little Water Song", the story of a woman drowned by her husband, and by the end seems the living embodiment of the wronged woman. And she turns Dylan's "Don't Think Twice, It's All Right" into a peppy, punky, angry holler at an old lover.
The simple set looks somewhat as if her personality has leaked out all over the stage: there are hints of a strange off-kilter fairytale boudoir, with sequinned dresses and glitter balls and a sparkly red swing-seat all suspended at various heights for her to bat at playfully as she wanders around the stage. There are flowers and a caged bird, a tiny toy piano, and chimes which she strokes in various songs for effect. Her band are incredibly tight, and she has a great way of moving her expressive arms, to seem to be conjuring swells of sound from them. There's a tendency to flip suddenly, comically into a particular genre, which creates some tongue-in-cheek moments of mock-seriousness. But this doesn't matter: in the genuinely heartfelt moments, we can't help but feel it.
O'Sullivan finishes off with her own unique take on a call-and-response, by getting the audience to miaow back at her. We're in the palm of her hand by this point, and do it willingly. It's silly, but in this context it feels completely right: the only appropriate word for her ineffable, otherworldly, kittenish charm.
Until 16th January
Reviewer: Corinne Salisbury