Can I Live?
Fehinti Balogun
Complicité in association with the Barbican, London, supported by Oxford Playhouse
The Barbican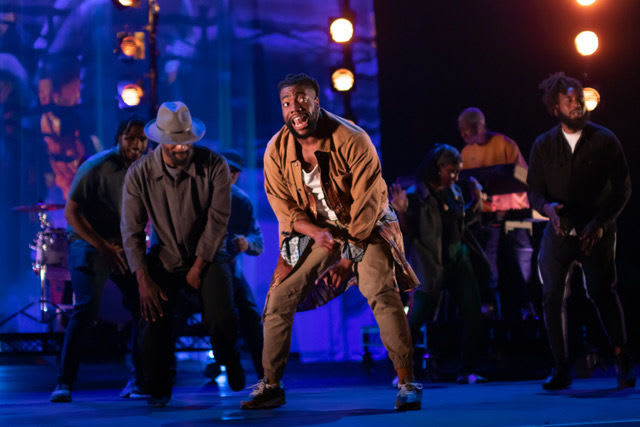 There is an optimistic mood to the filmed production at the Barbican of Fehinti Balogun's Can I Live?. That's partly to do with the easy way he shifts between a conversational style of speaking and spoken-word poetry. The occasional music and dance also help a bit, as does the inclusion of a dash of comedy that includes his mum phoning him up during the show to tell him he's a bit untidy at home.
The show starts in what looks like her home, where he tells us he has been staying during COVID. It leads to an account of his irritation, when shopping, at the easy way plastic bags are handed out given the contribution they make to environmental damage.
But he argues that a response to the environmental crises needs to be systemic rather than simply individual, pointing out that it's not hitting everyone equally. He illustrates this by reference to the country of Nigeria where his family came from. Oil companies don't just take the countries resources, they also pollute the land, poison the drinking water and harass community activists.
We hear about the non-violent Nigerian environmental activist Ken Saro Wiwa who campaigned against the dumping of waste petroleum for which he was tried and executed.
Using some striking graphics, Fehinti shows how even small increases in temperature can cause absolute disaster for Africa. A three percent rise in world temperature would mean two years of drought for West Africa and five years of drought for North Africa. Yet it is not Africa but the richest countries that have caused this temperature rise.
Such terrifying prospects have led Fehinti to join environmental activists and to give his energy and time to Extinction Rebellion. It is the possibility of collective struggle that gives him the hope that together there is a positive answer to the question "can I live?"
Can I Live? will be available online and include a post-show discussion with local activists at a series of venues on a Pay What You Decide basis culminating in a November Glasgow in-person screening during the visit of COP26.
Reviewer: Keith Mckenna