Candida
George Bernard Shaw
Logos Theatre Company
Upstairs at the Gatehouse
–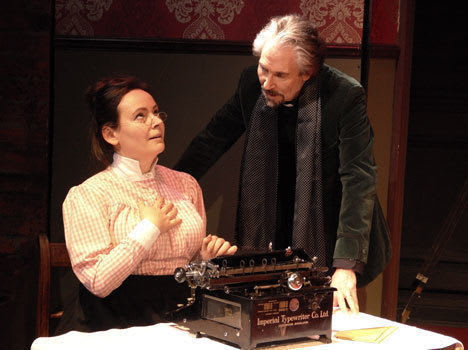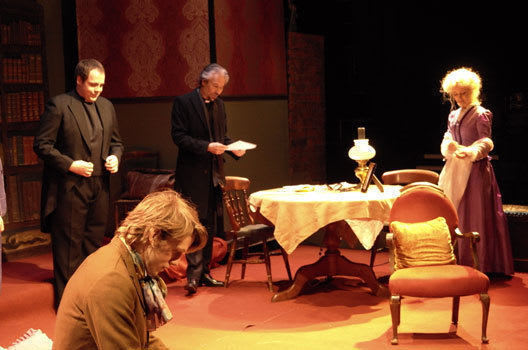 One of Shaw's earliest plays (1897), it failed to take off until a 1903 Arthur Daly production in New York was successful and was followed quickly by one at London's Royal Court Theatre. A popular play in the repertory for the next fifty years, it has had less exposure recently.
I first encountered it in my early teens, identifying with the young poet Eugene Marchbanks, adoring clever Candida, with whom he thinks he's in love, and admiring socialist vicar James Morell, whom Marchbanks thinks not nearly good enough for her.
It is taken all these years for me to catch a professional production and how different it now seems from that juvenile reaction. In Candida, Shaw, following Ibsenite example, may have been presenting a new kind of woman and writing from a Fabian viewpoint but under Bryan Hand's direction this production now seems to look back to older forms of theatre rather than being a new voice.
In highlighting Morell's dependence on his wife, Shaw may have surprised his Edwardian audience but its sexual politics aren't emphatic and his Christian Socialist produces no polemic. Indeed, published as one of his "Plays Pleasant", this is a comedy that mocks both the young poet's romanticism and upper class naivety and the vicar's political campaigning.
There is an element of satire in Morell's easy acceptance of father-in-law Burgess's exploitive capitalism but this is a take-it-or-leave-it comedy that does allow for asking questions like how Judi Bowker's charming Candida got such a posh voice when her father is so cockney (played just as Shaw tried to transcribed it).
These are one-dimensional characters that, Candida perhaps excepted, are written to be laughed at, not to be romantically identified with; indeed the laugh is at romantic love itself.
Sebastian Cornelius doesn't play Eugene for sympathy; he is petulant and silly. Harry Meacher is a gentle but gravel-voiced Morell who switches into melodrama mode when roused.
Burgess is one of those likeable capitalist rascals that Shaw loved to feature and Roger Sansom plays him with appropriate indulgence, Gareth Adams is a conventional cleric and Zara Banks as devoted secretary Miss Garnett (in love, of course, with Morell) is both pert and very funny as a "beer teetotaller not a champagne teetotaller" who's been knocking back the bubbly.
Though the play edges on farce, with people walking in at just the wrong moment, the comedy never really properly launches. Though not without laughs, this production doesn't manage to reconcile the play's elements for an audience perhaps not so accepting as they were a century ago.
There's an artificiality here masquerading as naturalism and it needs to be taken less seriously.
Reviewer: Howard Loxton