The Stepfather & And Who Shall Go To The Ball
Candoco Dance Company
Crucible Theatre, Sheffield, and touring
(2007)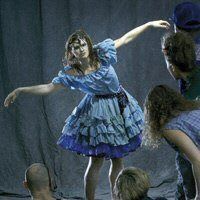 As one of an audience, 90% female, watching an empty stage backed by a curtain of childish graffiti with a set of holes, at first invisible, but later playing an important role as dancers pushed various limbs through and danced their battle hidden from the audience, it struck me that in order to appreciate this programme fully, one had to learn to speak a different language, and one not all that easy to learn. At first, I felt it may not be worth the trouble, but as the dance progressed, it became more important to understand the many processes being enacted. CandoCo has been in operation for 16 years, working with disabled and non-disabled dancers, resulting in work of extreme physical and expressive emotion.
And Who Shall Go to the Ball, choreographed by Rafael Bonachela with a resounding score by Scott Walker, gave the seven dancers, able and disabled, scope for an enormous variety of moods and expression, some verging on the pornographic, but all executed with dramatic precision and interaction. Perhaps the most relevant virtue of the performance was its ensemble nature whereby no individual dancers could be readily picked out as better or worse, and certainly the fact that one was in a wheel chair, with legs paralysed and another using a crutch, did not obtrude on the drama of the dance, and indeed the presence of two wheel chairs on the stage led to remarkable feats of mobility from all the dancers.
The second piece, The Stepfather by Arthur Pita, opened in the dark, with the dancers in pairs scattered in poses, gradually loosening as each burst of bright light, about twenty in all, revealed the plot. I have to say that the written explanation in the programme bore little resemblance to the choreographed movements, as far as I could deterrmine. This did not undermine the power of the dance and the expertise and confidence of the interactive movements of the dancers.
Reviewer: Philip Seager