Candy Cigarettes

The Rat Pit and Hot Hail
theSpace on the Mile
–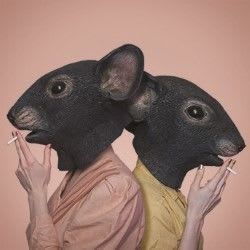 Touting itself as a multi-sensory, interactive experience inspired by Alice in Wonderland and real life stories, Candy Cigarettes had the potential to be a fascinating and unusual piece. Between the sweets handed out to the audience and the scents blasted across them throughout, it could have been something really special.
What instead transpired was a misjudged and unfocused series of vignettes, with two actresses starting out at children playing, then, at the flicker of the stage lights, transition into a new scene, where they would be teenage boys, a child and mother, ladies of high society and even a nurse and an infirm, incontinent old woman, but without any form of clear narrative or structure to the events and scenes.
As a result, the audience simply spent the majority of the performance waiting for it to begin to make some sort of sense, munching on sweets, and growing steadily more bored.
Where the inspiration of Alice in Wonderland lay, is entirely beyond the ken of this reviewist, as I couldn't manage to fit anything I saw into that frame, no matter what leaps of allegory and metaphor my mind made—beyond one of the girls being called "Alice".
That the two performers seemed genuinely enthusiastic, and the efforts gone to with sound, light and smell, are the only reasons this play receives a second star. But suffice to say, this was an hour no-one in that audience will ever get back.
Reviewer: Graeme Strachan