Cannibals
Rory Mullarkey
Royal Exchange Theatre, Manchester
–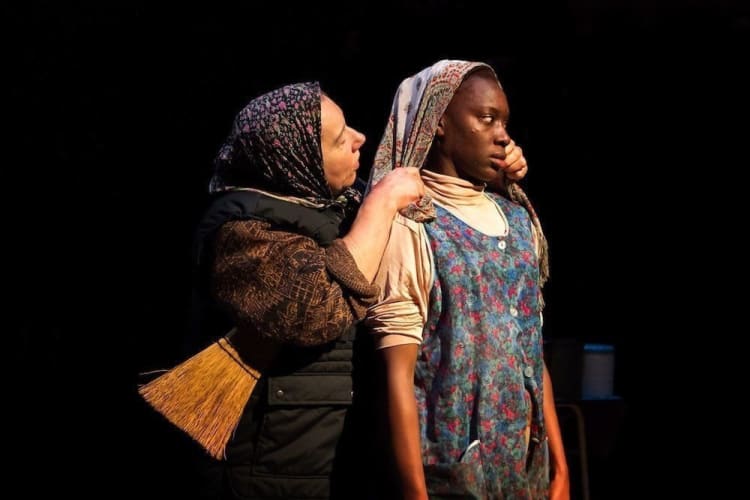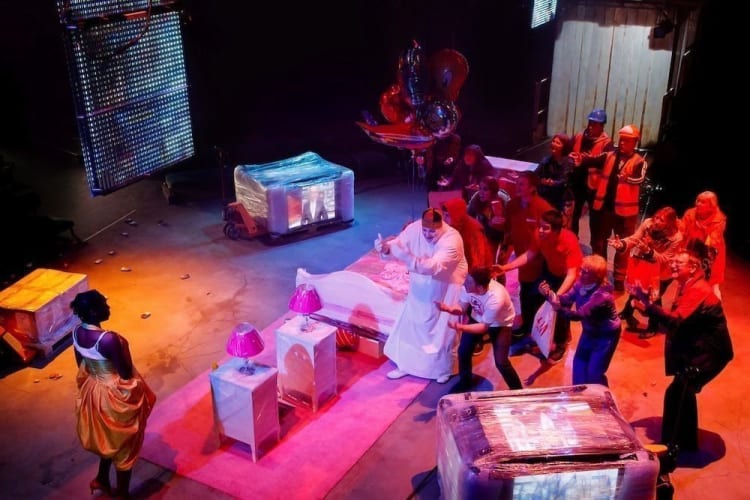 The reactions to Rory Mullarkey's first full-length play, written while he was playwright in residence at the Royal Exchange in 2011, a week into the run all seem to have been extreme—many extremely negative.
It runs straight through for an hour and three quarters without an interval. Michael Longhurst's production takes place on a set from designer Chloe Lamford consisting mostly of stacked wooden pallets, some of which open up to reveal other elements to the set.
We open on a scene in which Lisaveta is being lyrically praised by her husband, expressing his love for her and the beauty of the way she uses a knife. This scene comes to a sudden and violent end, immediately scuppering his plans for their future, which makes a profound statement by itself.
Lisaveta goes on the run, frightened for her life and prepared to kill if she needs to. She has an encounter with a soldier but escapes to stay with an old woman, and in return for her bed and board works on her farm with her stepson "Josef the Fool". There she learns of the fate of Josef's parents and the literal meaning of the play's name becomes clear—although it has metaphorical resonance as well.
In fact there are hints throughout of deeper meanings, layers, patterns of actions and behaviour that indicate that a lot of work went into planting them deliberately—perhaps a little too deliberately—throughout the script. There is a good sense of the randomness of being in the middle of a war in an old-fashioned farming community without modern communications when no one is sure who is fighting whom or why. It also shows how everyone in the middle of the conflict is interested primarily in self-preservation, however generous they may first appear.
For most of the play it is simple to follow what is happening even if things are a little over-explained; but then things explode into something akin to surrealism as Lisaveta suddenly finds herself in a big city filled with flickering advertising screens, street vendors and mobile 'phones where she can't understand the language that anyone else speaks (and neither can we).
It seems to be trying to give the audience a sense of her confusion, but this doesn't entirely work as for her this is frightening and life-threatening whereas for us we can switch off and sigh our incomprehension, looking at our watches to see how much more of this nonsensical imagery we have left to endure.
There is a great number of ideas in this play and Mullarkey with director Longhurst has attempted many literary and theatrical techniques to add depth and to try to give the audience an experience as something other than a passive observer, but it doesn't entirely work.
It is a bit difficult to know how to read this play or to understand what the writer is trying to communicate to us. It feels as though he has something important to tell us about war or about human nature or something but what this is is a mystery. It seems at first to be placed in a similar setting to Mother Courage but it lacks Brecht's neatly packaged scenes each with its own parable and issue for its audience to debate. It could also be likened to Sarah Kane's Blasted in trying to bring its safe British audience into the thick of modern warfare in all its chaos, violence and self-interest, but unlike Kane's play it doesn't drag us into that world via somewhere familiar.
Longhurst's production uses the now-common technique of linking scenes with music and movement instead of cutting from one to another via blackouts and scene changes, which sometimes works and sometimes doesn't. Some of his techniques come across as gimmicks, such as dropping various items onto the stage between scenes with a bang—perhaps to wake up those spectators who require a plot to keep their attention.
Unusually for a Royal Exchange main house production, the whole play is performed by a cast of just five actors, until the confusing end scenes when dozens of supernumaries are called upon. Ony Uhiara is excellent as Lizaveta, but she has very good support from Ricky Champ, Laurence Spellman, Tricia Kelly and Simon Armstrong, each of whom plays several parts.
This is quite a departure for a Royal Exchange main house production. While it may make its middle-class audiences feel challenged occasionally with a bit of nudity or swearing or a radical take on Shakespeare, something this theatrically different in form is a step in an entirely new direction, making one wonder whether artistic director Sarah Frankcom is making a statement about where she may be steering the theatre in the future now that she is fully at the helm.
The play doesn't quite work as, for all its bluster, flashing lights and noise, the end section bored me after a while with its repetitiveness, but I could appreciate the ideas behind it enough to hope that the writer settles into his own style soon to express his ideas in a more natural way for him rather than showing off the techniques he has learned from others.
But a piece of theatre in the twenty-first century that can evoke such strong feelings—even negative ones—has got to have some value.
Reviewer: David Chadderton