Canoeing for Beginners
Mike Yeaman
The Customs House, South Shields
(2010)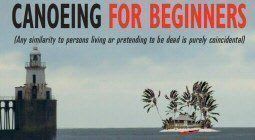 Award-winning playwright Mike Yeaman has taken the essence of a factual story and transformed it into an engrossing and entertaining theatre production. The story of a certain Hartlepool woman whose husband disappeared one day only to reappear eight years later forms the basis of Canoeing for Beginners.
Although, upon first consideration, such a topic may seem strange material to be chosen as the subject of a play that is, predominantly, a comedy-drama, Yeaman has the courage and talent to do just that.
Having assembled a cast that includes Pat Dunn, David Whitaker, Chris Connel, Laura Norton and Gary Kitching, the production, on paper, promised to be a landmark event in regional and, indeed, national theatre. However, in practice, several factors prevented it from achieving its full potential.
Helen Ferguson's direction resulted in several shortcomings. It seemed blatantly apparent that the cast were under-rehearsed and, as a consequence, several actors did not perform comfortably in their roles. Pat Dunn, as Beryl, and David Whitaker, as Frank, should have been confident leading players but neither conveyed the required self-belief and conviction to do so. Chris Connel seriously over-egged the pudding in his portrayal as Sgt Watts, but should be congratulated for his ability to perform two roles in very quick succession on a number of occasions. Gary Kitching and Laura Norton, as Frank and Beryl's adult children, both performed well, but lacked the guidance of a firm directorial hand.
Running at nearly two and a half hours, the piece seemed long at times and there was at least one scene that could easily have been cut without detracting from the plot.
On the plus side, the show contains some wonderful one-liners which provoked more than a few belly-laughs from the audience. The main strength of this production lies with Mike Yeaman's script and, providing that certain tweaks and adjustments are made, I envisage no reason why it should not have a long and successful future ahead of it. Indeed, Canoeing for Beginners is a generic hybrid that skilfully blends comedy with drama and fact with fiction, resulting in a piece that bears all the hallmarks of a sure-fire hit.
Runs until Saturday 7th August 2010.
Reviewer: Steve Burbridge