Can't Pay? Won't Pay!
Dario Fo, translated by Lino Pertile, adapted by Bill Colville and Robert Walker
Derby Playhouse
(2005)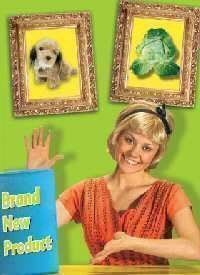 When Elli Garnett pulled out of this show at a late stage because of illness, it left the Playhouse with a dilemma. Director Karl Wallace, who's also artistic director of Belfast-based Kabosh Theatre Company, turned to Jo Donnelly to fill the gap.
Wallace had worked with Donnelly before so he knew she'd do a good job. Unfortunately there was so little time for her to get to know the part that she had to take to the stage with a script during previews and press night.
Donnelly does an amazing job. She makes sure the script is never far away from her yet she doesn't refer to it all the time. She plays Antonia, a major role in a production which relies a lot on physical comedy. She chose to memorise first the scenes in which her movements are essential to the action. Her timing is faultless. So when she returns to her script you hardly notice.
Donnelly and Phillipa Peak (who plays Margherita) are the outstanding successes of this 1974 revival. Donnelly gives it pace and humour while her scenes with Peak are some of the funniest I've seen for a long time.
Can't Pay? Won't Pay! is set in Italy at a time of social upheaval. Workers were striking in a bid to win better wages and women wouldn't accept that they were inferior.
As part of the civil unrest, people refused to pay spiralling prices for electricity and consumer goods. In fact they insisted on paying only what they considered to be a fair price for essential items - or nothing at all. Shoplifting and theft became rife.
Can't Pay? Won't Pay! traces the story of Antonia and Margherita as they join the crowds of people taking groceries from a supermarket without paying. Donnelly and Peak are hilarious as they disguise their ill-gotten gains by hiding them under their coats and pretending to be pregnant. The audience was in uproar when water came from under Peak's coat; her waters hadn't broken, it was a bag of olives!
Wallace's production takes the best of Fo's writing and embellishes it with knockabout comedy which is at times daft but never degenerates into the surreal. Stage managers are brought into the action to get extra laughs and there's audience participation for people sitting in seat 17 which prompted the comment from one of the actors: "You didn't get this in Merlin, did you?", a reference to the plodding festive Playhouse production of Merlin and the Winter King.
Can't Pay? Won't Pay! is well done, with James Weaver giving a sold performance as Giovanni, Derbyshire actor Sean McKenzie looking comical in donkey jacket and woolly hat as Luigi and Christopher Chilton bringing something different to each of the several characters he plays.
The only trouble with Can't Pay? Won't Pay! is that no matter how good the actors are, the play has certain sections in which there are no laughs at all. This is particularly evident in the first half.
Maybe Fo felt he had to explain in great detail the social conditions which were prevalent in 1970s Italy; or perhaps some of the gags were lost in the translation. The result is that Can't Pay? Won't Pay! is an amusing, entertaining evening rather than jaw-achingly funny one.
"Can't Pay? Won't Pay!" runs until February 26th
Reviewer: Steve Orme