You Can't Take It With You
George S Kaufman and Moss Hart
Royal Exchange Theatre and Told by an Idiot
Royal Exchange Theatre, Manchester
–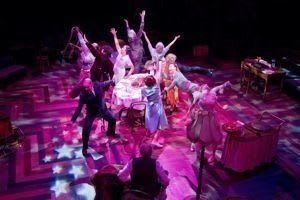 For the festive season, the Royal Exchange returns to the great American comedy writer George S Kaufman—his Animal Crackers was a major hit for them a decade and a half ago in a Christmas production directed by Emil Wolk and Greg Hersov—and his Pullitzer-Prizewinning collaboration with Moss Hart You Can't Take It With You, loosely based on the family in which Hart grew up.
The play really centres on a romantic mismatch, in a comic Romeo and Juliet sense of incompatible families, between Alice Sycamore and her boss's son Tony Kirby. It is set in Alice's home, where her father Paul makes fireworks in the attic with Mr De Pinna who came to deliver ice eight years ago and never left, her mother Penelope writes plays that are never finished or produced, her childish sister Essie makes candy and has ballet lessons from the eccentric Russian imperialist Boris Kolenkhov, Essie's xylophone-playing husband Ed delivers Essie's candy and is a passionate amateur printer and grandfather Martin Vanderhof, the family patriarch who walked out of his job because he decided he didn't enjoy it and refuses to pay income tax until he's told what he gets for his money.
While Alice herself appears "normal" and works in an office, there is bound to be a clash when Tony's parents are brought to meet Alice's family, especially when Vanderhof's unconventional ideas on living clash with the ideals of Wall Street boss Kirby, and the union between their children seems destined to fail.
Director Paul Hunter is clearly trying to resurrect the spirit of the Exchange's production of Animal Crackers—he as good as admits this in the programme—but it doesn't really come off. It certainly has the physicality, the unexpected bits of audience participation and the anarchy bordering on surrealism in the staging, props and character doubling, but this all feels a little glued-on, whereas in the earlier show it felt like it came from the soul of Emil Wolk and went to the heart of the play. This dressing is put on top of a framework that isn't constructed as well as it should be, with poor storytelling in the direction, characterisations that aren't strong enough and delivery of comic lines that isn't funny enough, so instead of an anarchic comedy we get an amusing jumble.
There are also problems with the sightlines: in one of the highest-priced seats in the theatre, I couldn't see most of the centre of the stage for the whole of the first and last scenes because of a standard lamp with a large shade right in front of me, and a scene where an actor enters wearing three hats to represent three characters I could only hear as there were so many people stood around the stage completely obscuring him from my view.
Sarah Ridgeway does a very good job of putting over the "normal" character of Alice amongst all the chaos, with pretty decent support from Hugh Skinner as Tony. The only actor that really gets across the strong comic style of character is the wonderful Miltos Yerolemou as Kolenkhov—who happened to have been in the cast of Animal Crackers and Wolk's bizarre follow-up production Wolk's World. Christopher Benjamin is as laid back and amiable as he should be as Vanderhof and is perfectly convincing as the heart of the family.
I certainly laughed quite a few times—although certainly not as hysterically as some in the audience at press night—but for me the play outstayed its welcome as it was more a mess of comic images than a coherent theatre piece. It's a pity that Wolk couldn't have been brought back to inject his unique vision into the Royal Exchange's Christmas rather than another director coming in and superficially recreating his style.
Runs until 14 January 2012
Reviewer: David Chadderton