Canvas
Michael Wynne
Chichester Festival Theatre
Chichester Minerva Theatre
–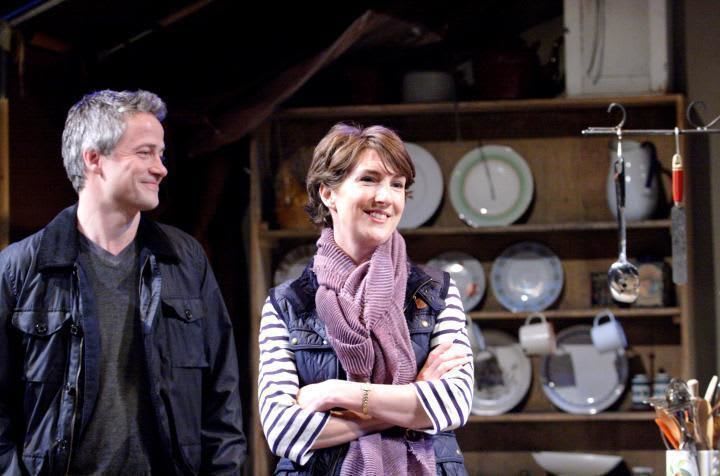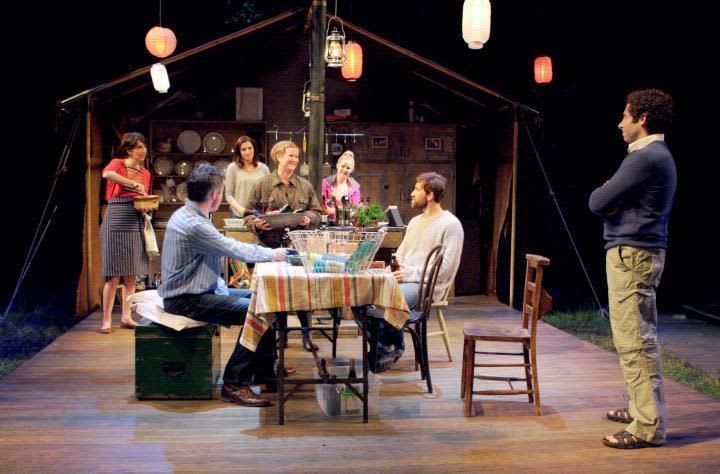 The second of two world premieres for this Festival season takes us right into the land of sitcom - 'land' being the operative word as the action takes place deep in the country, camping at a farm in Wales where three couples are holidaying for the first time.
It's a very slow beginning as the first couple arrives, late at night, exhausted and carrying two sleeping children. Happily, tents are ready and waiting, complete with wood-burning stove (under canvas?) a full, if inadequate and rather basic, kitchen and large bedroom somewhere at the back. Of course husband Alan (Dean Lennox Kelly) has omitted to bring the essential coolbox with supplies, but the view is glorious, it is peaceful, and they can forget their troubles for a while, or can they?
Lucy Montgomery's Justine certainly can't. She is restless, unhappy and on edge the whole time. It's not a great part for anyone to get their teeth into, the script gives no chance to develop and expand, and the action doesn't pick up until Bridget arrives from the neighbouring tent in the shape of an enthusiastic, hyper-active and very funny Sarah Hadland who gets everyone organised, tells them what to do, repeating instructions in case they weren't listening properly the first time—and is very surprised when they guess that she is a teacher.
The third couple to make an appearance are upwardly-mobile, health-freak joggers Alistair and Amanda, and between them the three couples represent different aspects of modern life from business failure and bankruptcy to an affluent and enviable lifestyle, taking in a broken marriage along the way—or is it all what it seems?
Gradually, as Jonathan Fensom's sliding floor design brings the whole inside of the tent area forward allowing the action to be seen from every angle, secrets are revealed, hopes and longings are shared, buried frustrations rise to the surface and tempers flare, bursting into uncontrollable anger at one point. The ensuing fight, expertly choreographed by Terry King, is frightening in its intensity and very realistically performed, but did seem a little excessive, even if the victim did work in the city.
The women are the stronger force in each relationship, from Justine's worried realisation of their predicament, something which Alan is trying to ignore, to Bridget keeping tight control of her children and her life, and even excellent hostess Amanda (beautifully portrayed by Hattie Ladbury) with a tent full of electrical gadgets—"you have to have somewhere to charge the iPod and the microwave has been a lifesaver"—finally stands up to the philandering Alistair (handsome Oliver Milburn).
Somehow nothing really rings true. Would Justine fall quite so readily for Alistair's smarmy charms when there was so much else on her mind? Would Amanda switch so suddenly from perfect hostess and compliant wife to a resentful and vengeful one? Would Bridget's emotional and wimpish Rory (Ellliot Levey) burst into tears quite so often, whether happy or miserable? The most realistic sections are when the parents are shouting instructions and warnings to the distant children.
Lisa Palfrey as Bronwyn, the hapless and hopeless farm manager, has some very funny, slightly kooky dialogue, and all seemingly turns out well in the end; so it is a pleasant evening with some genuine laughs, but not the comedy romp I was expecting.
Reviewer: Sheila Connor