Capriccio
Richard Strauss
Garsington Opera in conjunction with Santa Fe Opera
Garsington Opera
–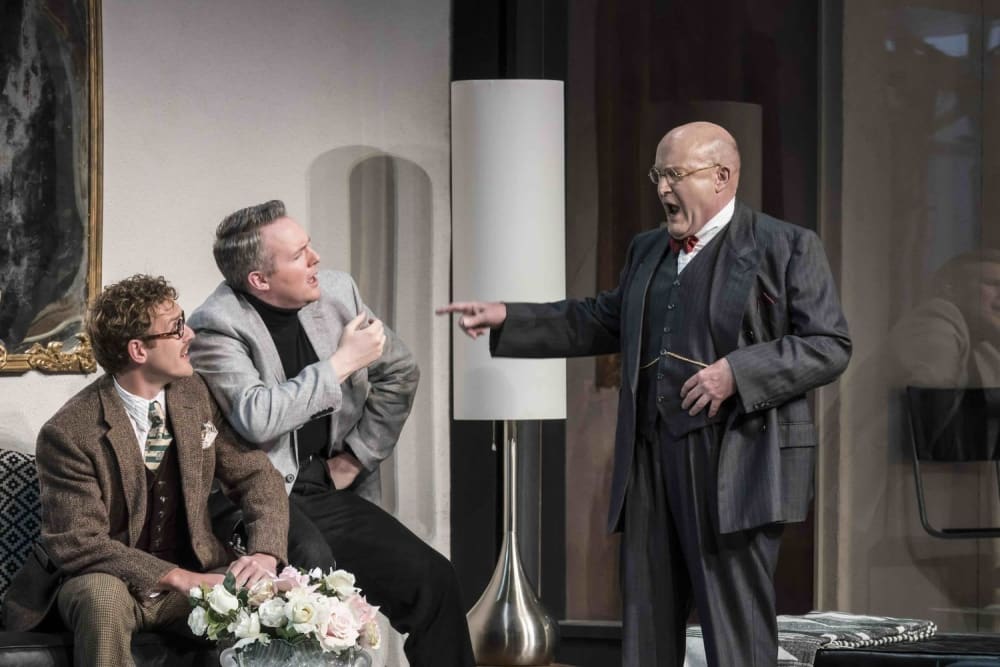 Described as a 'converstation piece', Capriccio is Richard Strauss's rarely staged swansong. When the world was going mad around Strauss in the 1940s, he retreated into the 18th century with philosophical debate. His work, a caprice, is a lighthearted examination of a subject which had long been an obsession for Strauss: which is paramount, music or words?
Written and premièred in the midst of the horrors of World War II, opinion is divided whether Strauss simply twiddled as Rome burned or whether his final opera was a protest against the crude values of Nazi Society. Either way, the result is in stark contrast to the backdrop of Nazi Germany. Far more fitting is Garsington, on beautiful summer evening, the perfect backdrop for Strauss's light entertainment.
A group of theatricals gather at a private country house and debate. This is a meta-opera, in which Strauss enjoys mocking the very art form in which he works. We chuckle as they complain that the words are never heard with the orchestra playing too loud, the words never any good anyway, and that the exhaustively long death arias never finish. Their points are examined with live examples, the opera opens with a string quartet performance, we hear Oliver's sonnet recited without music and so forth.
All of this philosophising is parcelled up with a few love triangles (it is opera after all), and ends with the Countess giving us one of those complained about extremely long arias in which she must choose between her suitors. Will she pick composer Flamand or poet Olivier—physical manifestations of the debate.
Capriccio is the definition of genteel. There are no true explosions of passion in the romance, and although the cast bicker we are not looking at drawn swords, instead the bickering of house guests on a weekend away. Designer Tobias Hoheisel's beautiful country house features a baroque sitting room with more modern wings to both sides featuring contemporary art. It serves to give the piece a rather timeless feel, but the set certainly oozes cultural refinement of this country mansion.
Director Tim Albery has the chorus peeping in through windows, the ensemble ensuring that the action never dries up without distracting. Albery's production is a witty interpretation, which gets even better in the second half. Douglas Boyd conducts with affection, bringing to life this detailed score with a deftness of touch.
Strauss's music is renowned for extremely long phrases, demanding for any singer, and this is no exception. Capriccio is in particular a celebration of the soprano voice and Mia Persson steps up to the challenge performing superbly as the Countess. She is in fine voice, spinning the lyrical phrases with luminous tone, and looking divine in her various gowns.
There are fine performances all round: mezzo Hannah Hipp is sophisticated and acid-tongued as actress Clairon; La Roche the theatre director (Andrew Shore) blusters and expounds brilliantly; Poet Olivier (Gavan Ring) with his slicked-back hair comes across as a suave, silver-tongued man of the world, nice contrasted with composer Flamand's (Sam Furness) brown suit and earnest fervour. The three men of the arts have been well crafted to compliment.
Also worth mentioning are the witty performances from Caspar Singh and Nika Gorĩc as the Italian Singers, both in fine voice and delightfully animated. Graham Clark makes a show-stealing short appearance as the hilarious sleepy prompter. Special mention is also deserved for the extremely polished singing from the male ensemble.
This is a soufflé opera: light and airy, delicious but so easy to get wrong. I'm delighted to say that Albery's concoction has risen nicely.
Playing in repertory with Die Zauberflöte and Falstaff.
Reviewer: Louise Lewis