Captain Corelli's Mandolin
Adapted by Rona Munro, based on the novel by Louis de Bernières
Church & State Productions with the Rose Theatre Kingston and Birmingham Repertory Theatre
Rose Theatre, Kingston
–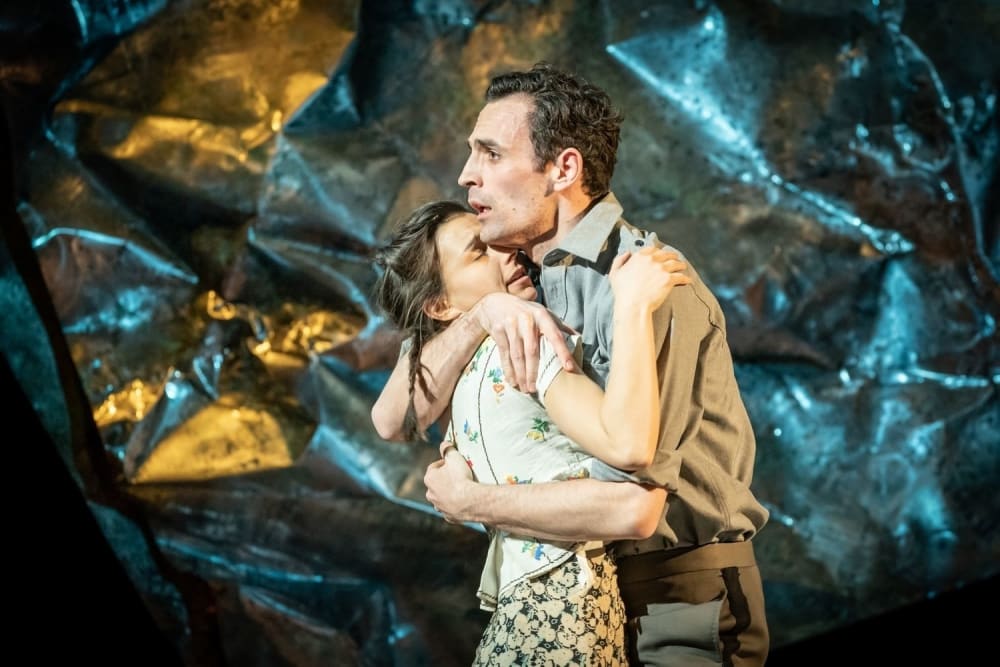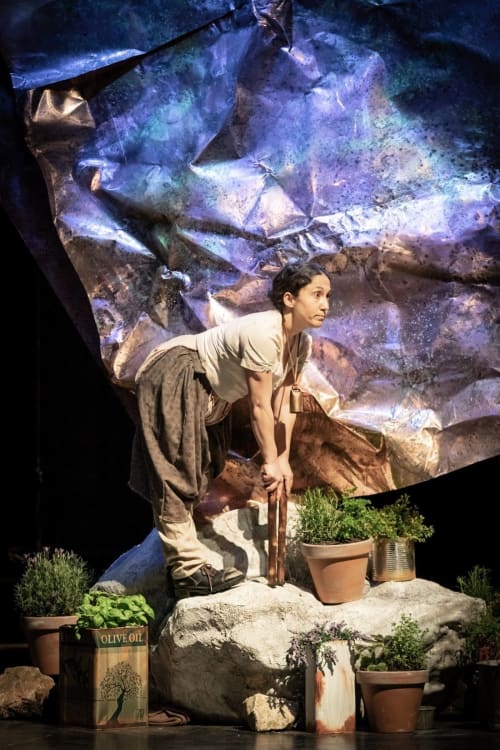 Captain Corelli's Mandolin is a very special book. The beautiful prose is well loved by readers around the world, and there's that famous speech which makes it into countless weddings. Yet for some reason, Louis de Bernières has resisted successful adaptation (perhaps a Nicholas Cage flop put off other attempts).
So all in all a rather tall order for an adaptation. Rona Munro takes on the challenge with mixed results. Sensibly, she opts not for a faithful adaption but still retains plenty of the plot—perhaps a little too much. The weight of Corelli and Pelagia's relationship is lost amongst the tender retelling of Carlo's gay romance and Pelagia's initial engagement to Mandras. The good captain only appears just before the interval.
Director Melly Still very convincingly adapts the war material for stage with an inventive mixture of physical theatre and soundscapes. There is still a sense of the epic sweep through location and time; still successfully contrasts between the vast, faceless nature of the soldiers in multiple battles versus the small community on Cephalonia.
The action plays out in front of two enormous squares of beaten copper. This otherwise minimal set enables Still's slick scene changes: the action leaps between sun-soaked Greek island and the gunfire-accompanied battlefield. The copper glints as video projections light up the stage, morphing from gold to silver, beautiful as well as horrifying as blood red spills across the metal.
Luisa Guerreiro and Elizabeth Mary Williams are captivating as a paper-munching Goat and a slinky Pine Martin, providing lighter moments in this bittersweet romance. Ryan Donaldson convinces as an awkward, lovelorn soldier and then the embittered man left once his loved comrade perishes. Madison Clare is assured and quick witted as Pelagia and suitable disarmed by the charmingly awkward Alex Mugnaioni as the Captain.
Despite excellent performances from the whole ensemble, the adaptation feels too long—the final thirty minutes a real slog. In fact it only runs at 2 hours 35 with interval, but the pace is suddenly slow once the fighting has ended and the drama lacks a requisite level of pathos to compensate for this.
This winding tale was a tall order for anyone to put on stage. Munro and Still have made an admirable attempt—so much is right that I hope this gets another edit.
Reviewer: Louise Lewis