Captain Flinn and the Pirate Dinosaurs
Giles Andreae and Russell Ayto
Les Petits Theatre Company
Greenwich Theatre
–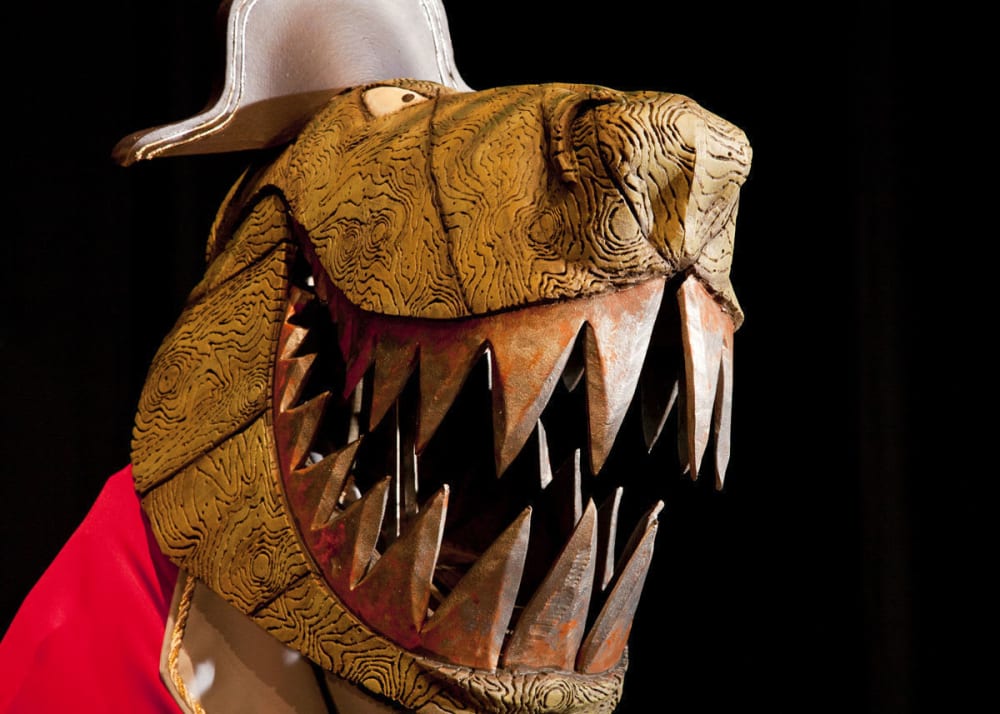 Pirates and dinosaurs! What more could you want in a children's story—and one in which the heroes are kids too.
This adaption of the book by Giles Andreae and Russell Ayto is a fun-packed hour that's ideal for youngsters who have started school. It's ideal for half-term but also touring the country until May ends so look out for it locally.
Meet Flinn (James Keningale): he's in his bedroom drawing but he soon introduces himself. You can tell he likes dinosaurs because there are pictures of them all over his duvet and his picture—well it's a big T-rex head—a tyrannosaurus rex, that carnivorous giant. He is going to take it to school with him.
On the way on his scooter, he soon teams up with his tomboy pal Pearl (Catriona MacKenzie) and the rather more timid Tom (Daniel King). These friends just love an adventure as they tell us in song.
At school, they are all rather naughty, playing tricks on comic teacher, the rotund Miss Pie (Will Seaward), who's really nice and sets them a treasure hunt that takes them into the art cupboard where they discover the weepy Captain Stubble (Will Seaward again), a pirate who has had his pirate ship stolen by a gang of dinosaur pirates.
They join Captain Stubble as a new crew and go off in search of his ship The Acorn and the real adventure has begun.
Directors Nicole Lewis and Emma Earle have staged it very simply and directly and designer Zoe Squire has given them a set that the actors can rapidly convert from bedroom to schoolroom and pirate ship deck and back again.
There are flocks of seagulls that sweep over the audience (the front rows anyway should watch out for droppings), some delightful, not too frightening dinosaurs (though T-rex does have a horrible roar) cleverly costumed so that "good" pirates can also play the "bad" ones and it all goes along at a spanking pace with lots of rhyming and jolly tunes.
The action sometimes comes out into the audience and every child (and adult) has the chance to join the pirate crew and display their eye-patch, wave their hook hand and roar "Harh, harh."
It is a game that everyone can feel a part of and it is enormously enjoyable, especially if you are just discovering dinosaurs and in your first years at school.
Reviewer: Howard Loxton