Captain Morgan 1: The Sands of Time
Ben Behrens
Tap Tap Theatre
Pleasance Dome
–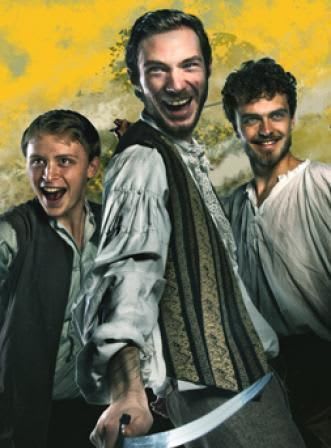 Captain Morgan and his first mate Hammond set out to find the fabled Sands of Time, to allow them to steal every treasure in the world.
A simple enough sounding goal until the British Navy, the Sea God Poseidon, the most motley crew ever and the mysterious location of the sands themselves get in the way leading to a raucous adventure filled with more laughs than seems possible in a mere hour.
The small cast, comprising Joe Newton, Edward Richards as Morgan and Hammond, with David Ridley's musical accompaniment, manage to dispel all disbelief as they spin back and forth through more than a dozen characters, affecting the mannerisms and voices of each brilliantly.
By throwing in enough jokes of a sly adult nature writer, Ben Behren has ensured that Captain Morgan is a family friendly show which works on all levels, making sure that the little sea urchins will be having just as much fun as their parents.
It's a shining example of Fringe comedy, which has grown from it's humble beginnings as a Free Fringe show and turned into a must-see show.
Reviewer: Graeme Strachan