Captain Morgan & The Sands Of Time
Ben Behrens
Tap Tap Theatre
The Vault Festival (London Waterloo)
–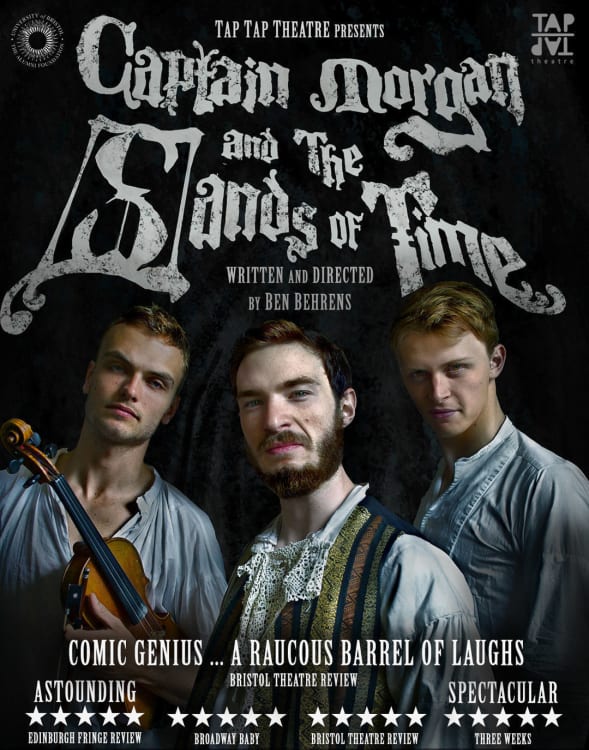 Are you in the mood for a show with comedy, wit, intelligence, accents, live music and, most importantly, imaginary sword fights? If so then Captain Morgan and the Sands of Time is definitely the right ticket for you.
Performed as part of The Vault Festival, the show brings a taste of the Edinburgh Fringe to London with a style of sketch comedy not often given enough of a platform. Much like Max and Ivan's 2011 hit Holmes and Watson, this production takes absurd characters and situations and weaves them into a proper narrative structure. There is peril, there is time travel and did I mention the imaginary sword fights?
The two actors (Joe Newton and Ed Richards) play an impressive forty-four characters, each with total commitment and attention to detail. Whilst Captain Morgan and First Mate Hammond are technically the leading lights, the cameos created for their crew are a highlight, particularly 'the over dramatic quartermaster' and 'gap-yar' student Quentin. The baddies, in the form of the Royal Navy, Poseidon and a six-eyed monster, are also skilfully played and, in the case of the latter, genuinely creepy.
With an almost frenetic pace, it would be easy to gloss over some of the comedy but each joke is well timed and executed with precision. Ben Behrens's direction also ensures complete clarity in a plot that contains huge potential for confusion.
Adding to the sense of adventure is live music by Dave Ridley who helps build the pace and the tension but never once overshadows the action. Indeed, Captain Morgan and the Sands of Time is performed without set or props so the atmosphere is created entirely through the excellent comic performances and Ridley's sympathetic soundtrack.
With plenty of laughs, a wonderful homage to Gladiators and even a sea battle this is indeed a comedy romp that leaves you wanting more.
Reviewer: Amy Yorston