Captain Show-Off!
Plautus adapted by Phil Willmott, with original music by Theo Holloway
Gods and Monsters
The Scoop
–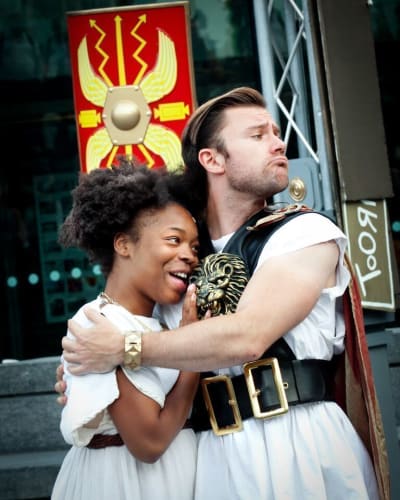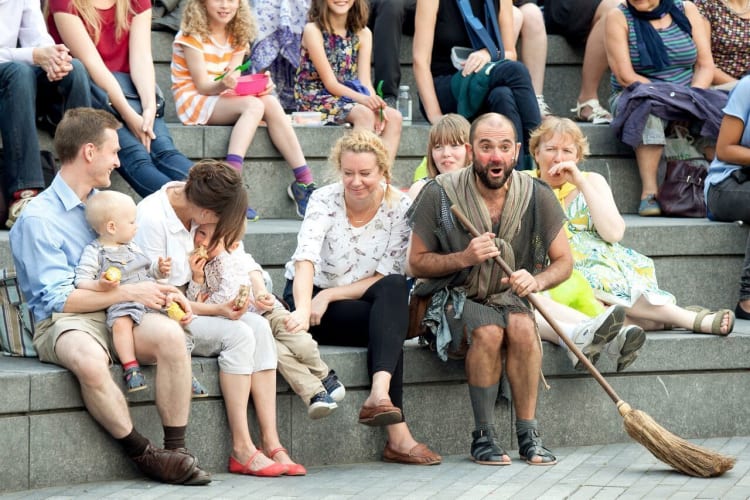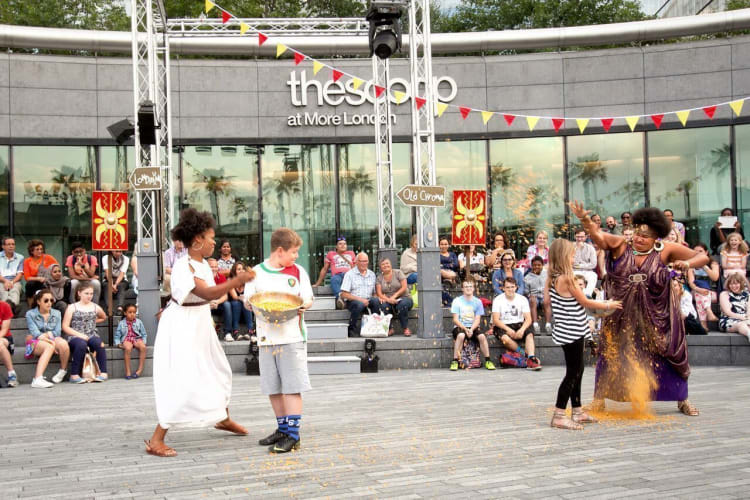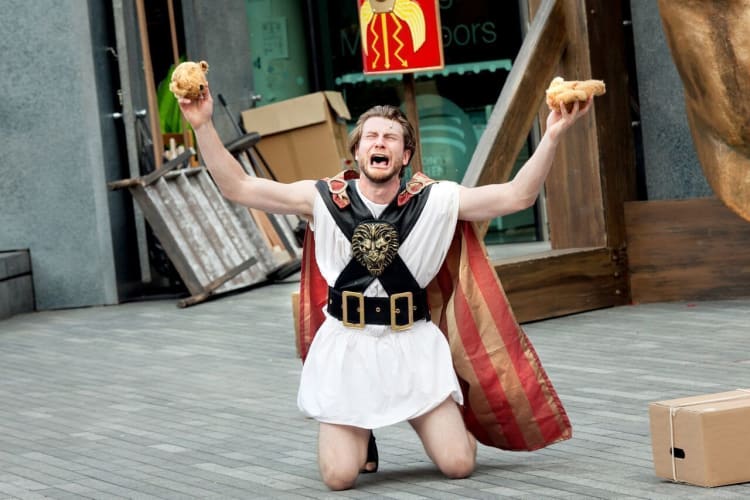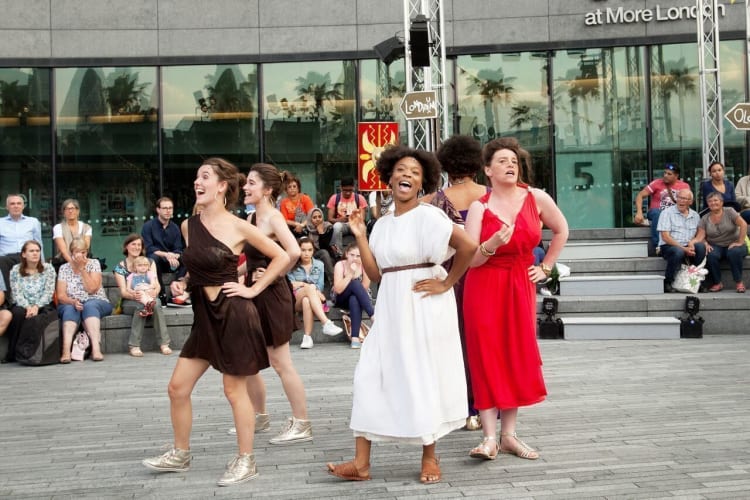 There aren't actually any gods or any monsters in this year's young people's play in the company's Free Open-Air Theatre season at the Scoop and the source this year is not Greek but Roman: the comedies of Plautus written in the 2nd century BCE such as Miles Gloriosus (Show-Off Soldier) and the Menaechmi (The Twins), the same source Shakespeare borrowed from for his Comedy of Errors.
The result, entirely in keeping with the original, is a cross between panto and Up Pompeii. It is a tale of royal twins, identical sons of the Queen of Waitross, who were parted when babies when one was kidnapped. Now Queen Battalaxia and the boy who stayed with her have gone abroad in search of his brother in Tesgoss.
Both boys have grown up to be soldiers and by chance both have been given the same nickname "Captain Show-Off": the one in Tesgoss, real name Aroggantius, because it is absolutely accurate, the other, Timmidius, as a joke because he is so retiring.
As you can guess from the names of the characters, dramatist Phil Willmott is setting out to be subtle and as director he has encouraged his actors to ham it up heartily.
Joseph Wicks is Stenchapix, landlord of the Cock and Bull Tavern, in direct line with Frankie Howerd's comic slave except that he looks much less hygienic. His hostelry has come down considerably from the high-class hotel it was when Penelope Day's Queen Battalaxia last stayed there. He may look filthy but you can see he's the clown and he's great at building a rapport with the audience.
Paul Kendrick as visiting twin Timmidius and Eddie Eyre as Aroggantius are reasonably alike and costumed identically. But strongly characterised so that the audience doesn't confuse them. Timmidius, still under mother's thumb, has hardly registered her good-looking slave Ariadne (Jasmeen James) who is in love with him (but soon will) while Aroggantius still plays the field despite being married to Foximinx (Anne Odeke) and makes a pass at Ariadne.
Comic situations of mistaken identity keep on occurring, an expensive necklace causing further confusion (though there's a flaw in the plot when at one point it goes unnoticed) but the biggest laughs come from the character playing which also includes Ursula Mohan's outrageous Oldchronia with her penchant for young men ("Ooo! Isn't he gorgeous?") who seems to have been given every job that the local authority needs filling.
There are also Joseph O'Malley as slave-merchant Capter-Traffica (who has ways of tickling Battlaxia's fancy), Emily Sitch and Hannah Kern as his assistants, the Shiftichics, and feline policeman—a piece of puppetry that needs more work to make it effective.
There are strong musical numbers, belted out boldy, simple but diverting dancing routines, some unsubtle double entendres for the grown-ups and even a few topical allusions to the Greek Euro crisis. The high spots, however, are some marvellous moments of audience participation involving small children that make those involved proud and everyone, including them, roars with laughter.
Arrive early to choose your seat, hire a foam cushion or take one—stone benches can be hard on small bottoms—and allow for it getting a bit colder as the evening draws on and you'll be set up for and hour and a half of free fun. You can say thank by adding to the collection bucket on your way out.
Captain Show-Off! plays at 6PM Wednesday to Sunday and is followed at 8PM by The Women of Troy. Admission is free. In the event of rain, the show may have to be cancelled. A cancellation decision will be made 30 minutes before the performance is due to start.
Reviewer: Howard Loxton