Captain Corelli's Mandolin
Louis de Bernières, adapted by Mike Maran
Mercury Theatre Company and Kote Marjanishvili Theatre, Tbilisi in association with NFA International Arts and Culture
Mercury Theatre, Colchester
(2011)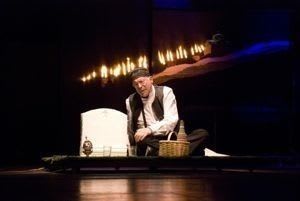 This is a remarkable production and remarkably ambitious in that it is a collaboration between two companies, one in eastern England and the other 2,200 miles away in western Asia, that not only uses actors from both but combines live performers with puppets to tell a very private story set against international conflict.
It is based on de Bernières best-selling novel so the plot will probably be widely known to many in its audience. Of course, in a two and a half hour adaptation they will find things missing, but Mike Maran's adaptation is much more true to the book than the Hollywood movie version.
The main loss is the earlier part of the Captain's story and the strand of Carlo's love for him. He is still there as a plot point to save the Corelli's life but with no live actor to represent him he becomes just one more among Corelli's company and we have lost one of the most true and touching parts of Bernieres' writing. The other thing that is missing is Corelli playing the eponymous mandolin. We have the Tbilisi Symphony Orchestra playing music specially composed by Vakhtang Kakhidze, plus chunks of Verdi and a quote from a tradition Greek dance but though he carries it Corelli never touches its strings.
Maran opens the story with Dr Iannis at his wife's grave sharing his news and thoughts with her, especially about their daughter Pelagia who is growing up, falls in love with a local fisherman then, during the occupation by the Italian army, with Corelli. Maran plays the doctor himself with a Scottish accent marking him an incomer, and with the excellent Georgian actress Natalie Kakhidze, (whose slightly accented English sounds almost native) they make a very believable father and daughter. They are paired, as are all the major characters, with equivalent puppet figures and scenes are sometimes played by both their live and their wooden characters at the same time. Once this style has been established it works well, though since the puppets are quite small and their faces difficult to see unless you are very close, attention tends to stay with the actor when they are together.
The relationship between Dr Iannis and the village is well established too, but here he is interacting with the puppets. There are tiny cameos for a patient and his overbearing wife but only the little priest (another incomer with a Scouse accent) takes a real part in the story. The other puppets are more effective en masse as the grouped villages always keen to know what is going on and as the opera-singing members of the Italian army.
The puppets are used performing on table tops, which sometimes spread right across the stage. Director Levan Tsuladze has devised and choreographed a technique of gliding these tables on and off that becomes part of the performance and greatly adds to the effect, especially when a group of the puppet people are on the move.
There are ten Georgian puppeteers operating more than 30 puppets, for these rod puppets may require three operators each. And they do it very skilfully. Pelagia's little white goat is clearly an audience favourite; it's delightful, but their effectiveness is never greater than when the tiniest figure, little Iannis Pelagia's adopted daughter's son, appears poking his little head out from behind gravestones scaled ten times bigger than he is. It is a moment that is clearly lit, which not all the puppetry is, and draws total concentration.
The full-sized performers become rather like the puppet characters coming into close up. Tony Casement doesn't make Corelli the dashing handsome lover, he is just the nicest bloke, takes his responsibilities seriously but a musician who's not too worldly, which helps to make sense of the final part of the plot. Gus Gallagher plays Mandras, Pelagia's teenage fisherman fiancée, who returns hurt and brutalized by his wartime experience.
The live contingent is made up by Roger Delves-Broughton doubling Corelli's Quartermaster and a comic British spy whose contact call is "Roast beef moussaka". While director Tsuladze has integrated a variety of imaginative theatrical techniques into his production, even this joke of an Englishman, it seems to get out of balance with an anti-communist tirade calling for the British to intervene to save Greece from fascism and communism. Perhaps it is understandable given Georgia's relationship with both the USSR and modern Russia and the original book does take an anti-communist stance, but this was where the book and even more so the film upset many in Greece.
The book, and certainly this adaptation, doesn't attempt any background to the role of the andartes and the tragedies of the Greek Civil War, when there are plenty of things that Britain can be ashamed of concerning the way we intervened. In the context it was not necessary, the earlier background of the Greek situation before and during the war was not explained either, but this burst of histrionics, however heartfelt the actor made it, stuck out like a sore thumb.
Captain Corelli's Mandolin runs at the Mercury Theatre until 12th November 2011
Reviewer: Howard Loxton