The Caravan
Verbatim text from Look Left Look Right Theatre
The Ustinov, Bath, and touring
(2009)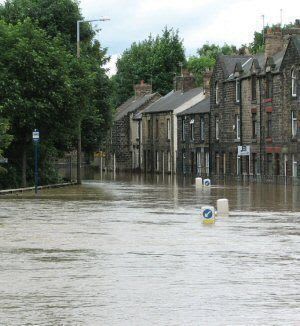 2007's floods left 49,000 households across Britain under water. Twelve months later, some two thousand households were still living in caravans, waiting for repair work to be finished to their homes.
Look Left Look Right, a young company founded in 2005 by Ben Freedman and Mimi Poskitt, recorded hours of interviews with families forced to live in these difficult conditions. The result is The Caravan, forty minutes of enlightening, moving and affecting verbatim testimony performed to an audience of eight in very close quarters in a tired old caravan, parked up in the Ustinov's scene dock.
The cast of four - Sanchia McCormick, Davies Palmer, Brett Sadie and Rachel Dale - recount the very personal stories of a broad sweep of flood victims with an arresting and easy naturalism. One passes out custard creams to the audience, another reaches out and touches someone's knee for emphasis. The sense of 'audience' and 'actor' melts away in an instant - so much so that the instinct to get involved in the conversation, to ask questions and sympathise aloud, is hard to resist.
The honesty of the testimony is entirely enhanced by the strength of the performances. Look Left Look Right was created to explore how the big moments in national or international politics affect the everyday lives of ordinary people; to tell the real story behind the headlines; to "convey the true emotional impact of news stories". It is a commendable aim, carried out to perfection here.
"The Caravan" is at the Ustinov until July 11th and tours to Latitude, The Roundhouse, The Drum, Plymouth, the Nuffield, Southampton and the Canterbury Festival.
Reviewer: Allison Vale