Cardenio
Attributed to William Shakespeare and John Fletcher or Thomas Middleton
The Aporia Theatre
Warehouse Theatre, Croydon
(2010)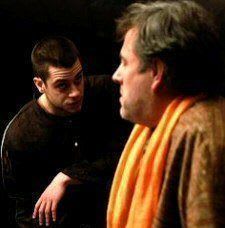 Cardenio was a play that we know Shakespeare's company performed at court in 1613 and which was listed in the Stationers Register in 1653 as by 'Mr Fletcher and Shakespeare' but which had long been presumed lost.
The play performed here has more commonly been known as The Second Maid's Tragedy, a title which appears to have been added by George Buck, the Jacobean Master of the Revels, when the manuscript, which is the only surviving copy, was approved for performance in 1611. In 1990 handwriting specialist Charles Hamilton claimed it as the lost Cardenio, though some years later the elderly expert said his attribution was on the basis that it was a 'romance' like Shakespeare's late plays. The text used for this producrtion is one prepared by the director and Luis del Aguila, not the version published by Hamilton in 1994, and it claims to restore the 1611 version
It is quite different from Double Falsehood, a play performed at Drury Lane in 1727 and published the following year as 'revised and adapted' from one by William Shakespeare, which has also been identified as being Cardenio. Both plays draw some of their plot from Cervantes's Don Quixote, in which Cardenio is a character.
This is a certainly the kind of revenge tragedy that Jacobean audiences liked, with plenty of bodies piling up by the end. It is the story of deposed king Govianus (though here called Cardenio) whose tyrant successor (here Fernando) covets his betrothed (in this version named Luscinda). Although her father at first supports her marrying Fernando she refuses and asks Cardenio to kill her. He tries but failing faints and so she stabs herself. Fernando exhumes her from her tomb for his necrophiliac pleasure before being killed himself.
There is a parallel plot in which Cardenio's brother Anselmo tests his wife's fidelity by getting his friend Lotario to try to seduce her. At first the chaste wife rejects his advances but then the two do indeed become lovers, though that ends up with a bloodbath that includes the deaths of a maid and her lover as well as Lotario, Anselmo and his wife.
There is a theme of female fidelity and infidelity that echoes other Shakespeare plots and there are some patches of heightened verse, as when Paloma Oakenfold's steadfast Luscinda contemplates her death.
On first viewing one is held by wanting to know what happens but this does not seem a work of any depth. We learn almost nothing about the character of Cardenio and certainly not why he has been deposed or why he regains the support of his people. Ryan Burkwood has little to work with so just plays him as a nice guy. Lotario allows Oliver Pengelly more complexity as he struggles with his conscience, but there is little investigation of the characters or their motivation. That's not what this sort of sensationalism was about.
Director Jonathan Busby has fashioned a swift moving production and draws intense performances from his actors. The maid and her lover could be seen as comic parts but humour is avoided, indeed an encouragement to laugh might lead to finding some serious moments grotesquely funny too. Though played throughout with feeling and a fast delivery - 'trippingly off the tongue' indeed! - sometimes performances are pitched too intimately to be clearly heard, especially when playing away from the right-angled audience, though other lines are shouted. To match the kind of pace that would have allowed Jacobean actors to perform a play within the 'two hours traffic of our stage' is to be commended but today's audience are not so tuned to taking things in so quickly as they must have been in 1611, but if I didn't catch all of it, it did help make these thinly drawn characters seem more believable.
At the Warehouse Theatre until 21st November 2010
Reviewer: Howard Loxton