Cariad
Sophie Stanton
Operating Theatre Company (in association with the Actors' Centre)
Tristan Bates Theatre
(2005)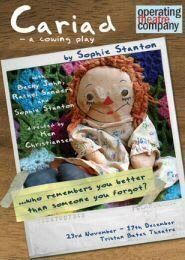 Cariad (Welsh word for 'darling' or 'love') is the story of two women in their thirties who were childhood friends and who find each other in later years, living very different lives.
Jayne (played by Rachel Sanders) is well-heeled, single and living in London. In contrast, Blodwen (played by Sophie Stanton who is also the writer) is a cleaner with one daughter and a bad marriage. They meet again by accident after 25 years. Jayne has returned to her home town to scatter the ashes of her mother. Blodwen saves her from the clutches of a local lecher and takes her home.
Once the truth is revealed, Blodwen insists on reliving the past, taking the increasingly weary Jayne through all of her childhood memories and recounts an incident where Jayne stood up for her in school. The terrible truth finally dawns - Jayne has no recollection of either the incident, or Blodwen. Added to the mix, is Blodwen's nine year old precocious daughter. Her mother finds her a handful; in contrast, Jayne seems to press all the right buttons and the two bond.
The premise of the play is an interesting one that would strike a chord with anyone either approaching middle age, or looking back in anger at their past. Childhood friends occupy a special place because they get to know someone when they are guileless and before they've had time to learn how to put up a front. The trouble is that after such a long gap, the difference in life experiences is sometimes too great a chasm to get past, so it inevitably ends in disappointment. In Cariad, we never really know whether Jayne genuinely can't remember anything or whether she's conveniently forgetting a past that no longer fits the idea of herself that she holds.
The play explores these themes well with humour and vision. However, it could have achieved more in terms of dramatising the impact that such a meeting might have on its characters. I felt that Stanton perhaps concentrated too much on one-liners ("the only good man is a dead one") than on the overall shape, so that at times the dialogue felt forced. I understand that the play is partly based on Stanton's own experiences in finding a childhood friend and it has a suitably personal feel. However, at the end of the play we are left wondering what might happen to the two women next and we don't know enough about Jayne's life to be able to guess. Although the relationship between mother and daughter is explored, we never find out why Blodwen is so hard on Emily nor why she humiliates her so much.
The three actresses gave strong performances: Rachel Sanders was impressive as a hopeless drunk in the first act (perhaps she was almost too effective, as her portrayal suggested the character was an alcoholic, yet this was not picked up in the second act) and Becky John was wonderful as the charming Emily totally bewildered by the behaviour of the adults around her.
Robin Don's design made good use of the space, suggesting a cosy but not affluent lifestyle. The play opened with a spotlight on a slightly uneasy symbol of childhood - a rag doll.
Though the conclusion was not entirely satisfying, it was an engaging choice of topic for the writer's debut full-length play.
Runs until 17th December
Reviewer: Bronagh Taggart