Carlos Acosta: A Celebration
Choreography by Sidi Larbi Cherkaoui, Goyo Montero, Christopher Bruce and Carlos Acosta
Acosta Danza
Royal Albert Hall
–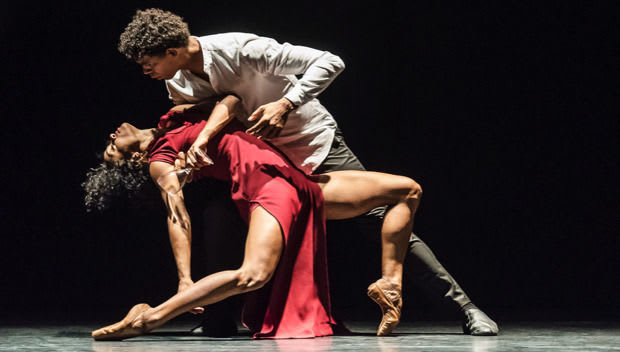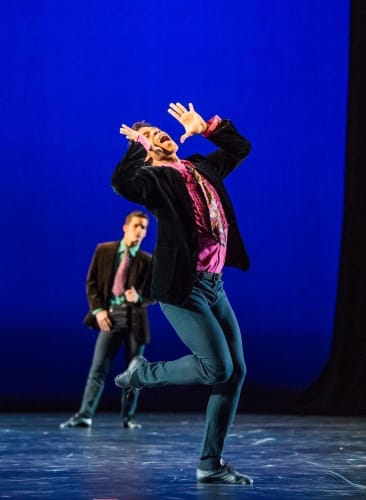 This quadruple bill is how 45-year-old Carlos Acosta celebrates thirty years in dance appearing in a programme that showcases his own company of Cuban dancers: Acosta Danza.
It opens with Sidi Larbi Cherkaoui's Mermaid, danced to a haunting score composed and performed in Korean by Woojae Park singing and playing the geomungo. Though inspired by the idea of a mermaid attempting to walk on dry land, this is a duet that presents Marta Ortega, in a striking red dress and glass in hand, unsteadily trying to stay on her feet.
Acosta is there to support her, raising her from the floor into complex shoulder lifts. He leaves and returns, she disappears into darkness, she writhes then recovers. There is a moment that could be waking the morning after and when the music changes to some familiar Satie there is more light and the mood more joyful. An on-going picture of exchange and support, it is more about helping others in need than about alcohol. It is fluidly danced but this personal, intimate work doesn't look its best in this large venue.
It is followed by Goyo Montero's Alrededor No Hay Nada (Around There is Nothing) danced to music by singer/songwriter Joaquin Sabina and poet Vinicius de Moreas and a sequence of poems by Sabina—the title poem is a list of body parts. The ballet is a succession of episodes, separated by blackouts, in which five pairs of black clad figures in hats that remind one of Bob Fosse that is full of precise aerobatics. It develops into a sequence that suggests constraints and interrogations bringing thoughts of oppressive regimes such as Pinochet's Chile or Franco's Spain (where Sabina was involved in anti-fascist activity before going into exile in England). It is a fascinating work but was not at its best in this.
The first half ended with Christopher Bruce's Rooster, danced to a sequence of Rolling Stones hits from the 1960s and '70s. From Acosta's introductory strutting as the cock of the walk rooster, this favourite from Rambert's past repertoire had the audience behind it and proceeded with delightfully pert performances from each one of the company. From those first hand jabs in the air, this perfectly captures a moment in time in a way that anyone around then will identify with and the what now seem rather formalised relations between the sexes of its teenagers. It's a dancing delight and great fun for later generations too.
The second half of the programme is devoted to Acosta's own ballet Carmen, given here in a revised version. It compacts the story and tells it clearly to Rodión Shchedrin's arrangement of Bizet's much loved music. It open with the bull-horned figure of death framed in a blood-red circle looking down on Carmen before beginning the story of her seduction of young soldier Don José who lets her escape from prison, her meeting with dashing matador Escamillo and her murder by jealously distraught José. It is shorter and tighter than the ballet he first made for Covent Garden and, though he created the role of Don José for himself, he now plays Escamillo.
The pairing of Javier Rojas as Don Jose with Laura Rodriguez's passionate Carmen adds verisimilitude to the drama for this is a softer, romantic characterisation, clean-lined but simpler and Acosta's Escamillo, is a dramatic confidently sensual contrast. With vigorous support from his very talented Cuban company, this has become a crowd pleaser and got an enthusiastic reception.
Reviewer: Howard Loxton