Carlos Acosta - With Guest Artists from Ballet Nacional de Cuba

Sadler's Wells
(2007)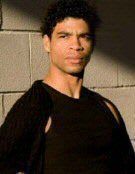 Poor Cuban boy, who could so easily have turned into a criminal, becomes an international ballet star feted in London, Paris and Moscow. It's the stuff of schmaltzy old-fashioned films; but the story is true, and, what is more, a film of Carlos Acosta's life, based on his autobiography, No Way Home, is actually being discussed.
It is not surprising that Acosta should want to remember and celebrate his Cuban roots and culture. The programme he has devised showcases guest artists of the Ballet Nacional de Cuba and the choreographer Alberto Mendez. Such is Acosta's drawing power these days the show was completely sold out the moment booking opened. He offers a very slight and very short programme.
The first ballet, Munecos, is about two mechanical dolls coming to life and falling in love. Coppelia meets Nutcracker. The love affair never really gets going – well, they're dolls, for heaven's sake. Actually, it doesn't get going because they can't get their clockwork act together. They are always out of synch; when one is human and raring to go, the other is still a doll. The actual woodiness of the characters is flexibly and cutely executed by Acosta and Anette Delgado
The second ballet, El Rio Y El Bosque, is primitive erotica based on Cuban folklore. Two gods meet for a bit of sex. The male dancer represents the Forest (the god of iron and virility). The female dancer represents the River (the goddess of gold and sexuality). Jose Losada wears very little. Veronica Corveas brings along a nice, billowing, all-enveloping, cloak, which the lovers could very easily use as a tent.
The third item, Paso A Tres, is a slapstick joke. Funny ballets are rare and funny ballets which actually make you laugh are rarer still. When is somebody going to revive Jerome Robbins' The Concert or, better still, when is somebody going to revive William Chappell's revue sketch, The Wrong Room, in which a woman (originally acted by Dora Bryan) is in the process of taking off her skirt in a hotel bedroom late one night when the spectre of the rose flies in through the window and whisks her up?
To hold these quite separate items together Acosta has devised and choreographed a quarrel between a young woman (Yolanda Correa) and her boy friend (Javiet Torres), who is exasperated that she wants to spend all her time reading books about dolls and gods when they could be (how can I put it?) doing something more serious. The framework is totally unnecessary.
The programme ends with the pas de deux from Petipa's Le Corsaire. The virtuoso choreography for virtuoso performers is worth the price of the ticket, if you have never seen it; and worth the price of the ticket if you have, especially when it is performed like it is here. Acosta, leaping at speed and at an impossible height, and Viengsay Valdes, holding an arabesque for what seems forever, are a knock-out. Six minutes of absolute bliss.
Reviewer: Robert Tanitch