Carmen La Cubana
Music by Georges Bizet, book by Norge Espinosa Mendoza, Stephen Clark and Christopher Renshaw, lyrics by Norge Espinosa Mendoza
BB Group
Sadler's Wells Theatre
–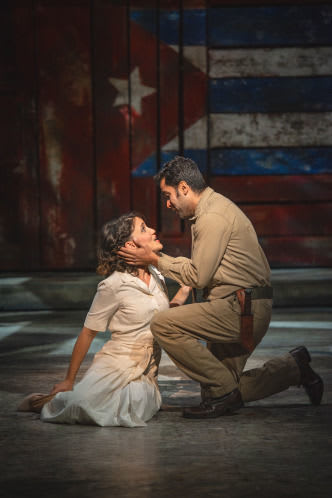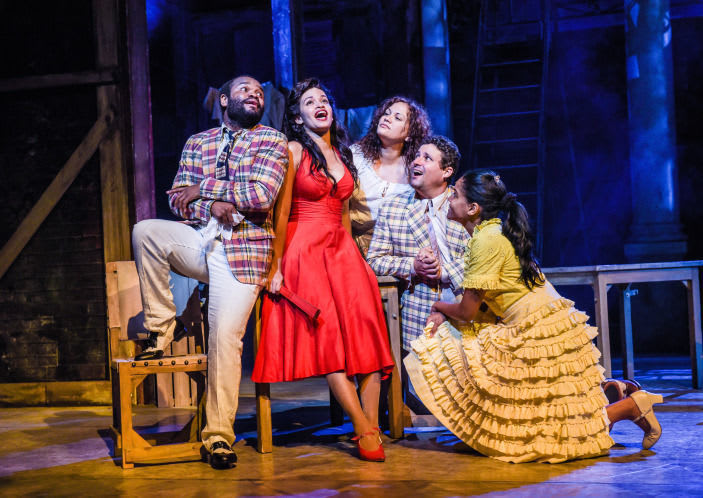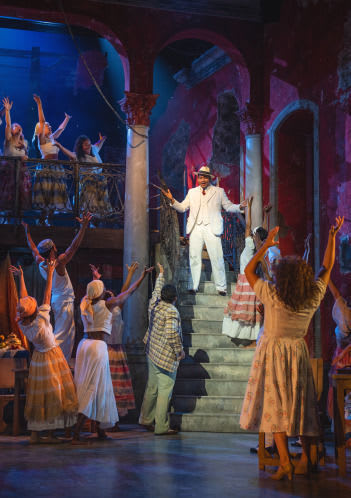 Prosper Mérimée's novel about the free-spirited Carmen whom men find so exciting but who settles on soldier José before dumping him for a young picador and is then killed by the desperately jealous José has inspired many adaptations.
Best known is Bizet's opera (which turns the picador into matador Escamillo) and it is that version that has been followed in many subsequent dance and stage versions. Oscar Hammerstein II update the story to World War II, turning Escamillo into a prize-fighter and with the music re-orchestrated produced Carmen Jones—and it was that Broadway musical and movie that inspired director Christopher Renshaw to create this version which transfers the action to Cuba set in 1958 when Castro's revolution was about to remove US-backed dictator Batista.
Carmen La Cubana brings together multiple talents from Britain, the US and Cuba. The late Stephen Clark wrote the script with the lyricist, poet Norge Espinosa Mendoza (in whose home town Santa Clara the first scenes are set); Alex Lacamoire (Grammy-winner for Hamilton and In the Heights) did the orchestration and arrangements along with Edgar Vero and Kirt Crowley, finding Cuban rhythms to fit Bizet so that the stage explodes in dances that draw on Cuban tradition: mambos and salsas and folk dance as well as jazz and contemporary ballet. Roclan González Chávez's vibrant choreography offers a succession of spectacular numbers.
Tom Piper provides a seedy setting that at the same time can look glamorous. Carmen in red or boxer Niño in a white suit standing out against the drabness of military uniforms, or the stage bursting into colour with Fabrice Kebour's lighting picking out the shimmer of night club glitter.
If you need reminding that Cuba produces excellent dancers, they are here and there are great voices too, giving those familiar tunes a new edge.
The transition to Cuba works well, the evening introduced by a Santerían priestess, La Señora (Albita Rodríguez) who predicts a tale of love, fate and death: she will appear in various guises to progress the story right through the evening.
This prologue erupts into dazzling dance and, as the story unfolds, the choreographed numbers are always exciting but the path between them is often uneven and doesn't have the same drive. Perhaps we have become accustomed to sung-through musicals as the dialogue sections sometimes seem long-winded, though not when Jorge Enrique Caballero and Maikel Lirio are around to add a comic touch as Niño's colourful managers Rico and Tato. Since the show is in Spanish, non-speakers must rely on simplified surtitles.
The original opera dialogue was turned into recitative after Berlioz's death; would a composed-through treatment help here? Not that there is any problem when Carmen is on stage. Luna Manzanares Nardo's fiery presence always holds the attention as she twists men around her little finger—or in José's case at one point wraps rope around him with which he was supposed to control her. This Carmen doesn't seek our sympathy, just our admiration, but the production could do more to make us warm to José, gently though Saeed Mohamed Valdés plays him. Perhaps something is lost in translation.
A few passages, such as Marilù's "Mi José" and some of José's own role, which keep a more operatic style, could be more skillfully integrated but they are sung beautifully by Christina Rodríguez Pino and Valdés.
Leonid Simeón Baró's Sergeant, in command of José's squad, is perhaps meant to represent the corruption and violence of the Batista régime and the revolution is also reflected in the contest between Niño, who seems to support the rebel side, and his Americanised opponent Kid Cowboy (Yoset Puetes). However, though Renshaw exploits the unrest of the revolutionary situation, he doesn't pursue the politics. Indeed he has said, "I don't think I'm allowed to take sides because it's not my country." Instead, he brings the pugilists' ring downstage to encircle a contest between the sexes.
"Love is like a dagger that flies through the air and kills," says La Señora, and this version of Carmen captures that same intensity. Though it occasionally slackens, it builds right through to the end of the curtain calls.
Reviewer: Howard Loxton