Carmen The Gypsy
Dan Allum
Romany Theatre, Reading Rep, New Wolsey
New Wolsey, Ipswich
–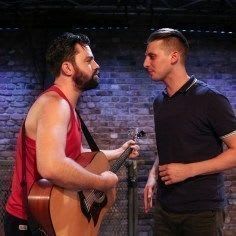 This is not Bizet's Carmen—this is a new adaptation of Prosper Mermiee's novella transposed from Seville to a British Romany traveller's camp and given a very modern twist—and is probably one of the most stunning productions I've seen for a long time.
Originally written by the Artistic Director of Romany Theatre, Dan Allum, as a musical radio piece, this re-adapted stage version uses a superb cast of five who, with music and drama together, weave out the age-old story of love, passion and betrayal.
Set within a metal cut-down cage fighting arena that in itself becomes a prison and a way of escape, the story is told with traditional Romany music and choreographed physical theatre, tightly directed by Abigail Graham.
Carmen and her friend Mariah work for Carmen's husband Garcia, earning money dealing drugs amongst other shady going on. Candis Nergaard plays Carmen as a sexy, caged tiger with a violet relationship and a wandering spirit that longs for more than the confines of the claustrophobic gypsy life she is forced to lead.
Christina Tedders is more pragmatic as widow Mariah, knowing and accepting the confines of her world. Michael Mahony's Garcia is the strutting, pumped up head of the pack, ruling his little world with a mixture of kindness and cruelty. Yet through some beautiful and edgy music, we learn of his deep love for his wife that he finds so hard to express to her face.
Into their lives comes Don Jose—ex-army, ex-boxer—looking for a place to stay and a way of earning money. Garcia runs an illegal cage fighting outfit and agrees to take Don Jose on. But his presence in the camp is the blue touchpaper that ignites the latent heart of Carmen and, as their love smoulders into passion, drives the story to its violent and tragic conclusion.
With final member of the cast musician Gareth O'Conner, this is a fluid, heartrending, beautifully staged production that at 70 minutes is spare, tight and perfectly formed. With a sharp, well-written script, the choreography of the dance and the fight and pared-back gypsy songs accompanied by guitar and fiddle, the story weaves and spins, dodges and darts, before the shocking, inevitable climax.
A must-see little gem that will leave you wanting more.
Reviewer: Suzanne Hawkes