Carmen
Georges Bizet
Welsh National Opera
Wales Millennium Centre, Cardiff
–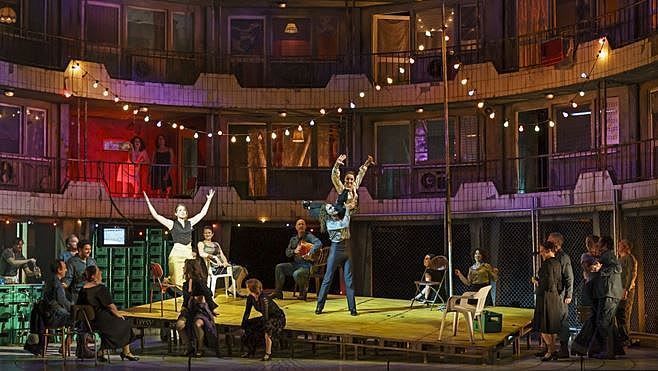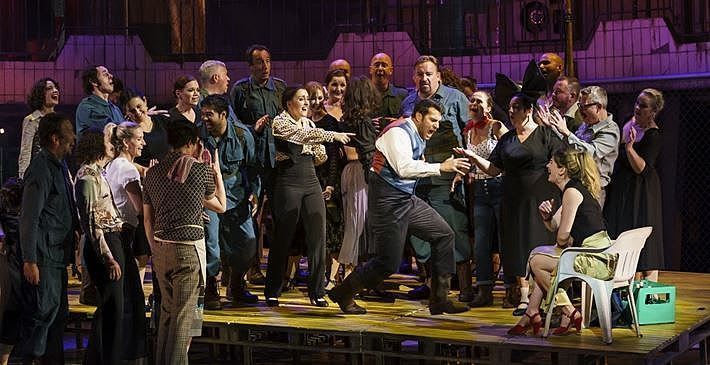 It's easy to forget, given its status as one of the world's most familiar operas, quite how revolutionary Carmen seemed when first performed in 1875. Just one of its radical features was how Bizet used his choruses—so different from what the Opera-Comique was accustomed to that its members threatened to go on strike.
Instead of coming on stage en-masse, the composer wanted his singers wandering on in twos and threes, one of many gestures toward a greater realism.
In that regard at least, this new WNO production by Jo Davies, with set designs by Leslie Travers, is at times a brilliant realisation of Bizet's intention.
The location is transferred to Brazil at the time of the 1970s military dictatorship, with much of the action taking place in front of a seething, fortress-like arched tenement building, later transformed into an actual fortress robbed by Dancaire's arms smugglers, and into the walls of the bull ring for the final act.
Not everything comes off—the frequent movement of metal barriers becomes distracting—but in the tavern scene that opens the second act, the concept works like a dream.
This is no grand set piece, but like an eruption of spontaneity, a vibrant portrayal not only of Lillas Pastia's bar—a shady, disreputable, exciting dive—but also of the world outside, where life is lived on the edge.
The WNO choruses, including the youngsters, are terrific as ever, creatively dispersed and handled with imagination.
The show is less distinguished vocally, with the possible exception of the title role. I have heard Carmens with a greater dash of hot pepper in the blood than Virginie Verrez. But rather than a femme fatale, she is a more contemporary, flighty free-spirit and, while her voice spins out most of her seductive lines with a gently insinuating sexuality, she has the ability suddenly to switch into a higher level of intensity.
Dimitri Pittas's Don Jose achieves a sort of dignity in the passion he releases in the final scene before this production's brutal climax, yet the electrical charge between the lovers seemed to be running on a low battery up to that point.
Anita Watson achieves a quality of sweet innocence as the trusting, naïve Micaela; Phillip Rhodes cuts a bravura figure as Don Escamillo, without quite having the stamina to match.
Were the production to be preserved, it might not be the recording one would treasure, but it would look pretty good on DVD.
Reviewer: Colin Davison