Carmina Burana
Presented by La Cuadra De Sevilla
New Victoria Theatre, Woking, and touring
(2006)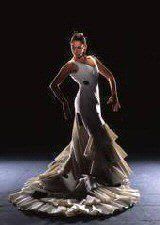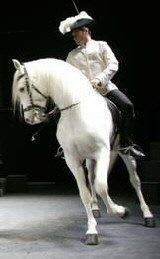 A sort of madness, a delirium, and more than madness, it is audacity - so it says in the programme notes penned by presenter, choreographer, designer and musical arranger Salvador Tavora - and I'm not arguing with that. It is also advertised as an evening of 'unbridled Spanish Passion'. That too is true. I believe that at some previous productions there has been a mixed reception, some of the audience rising to their feet in a wave of spontaneous adulation while others remained slightly bewildered, but while I cannot pretend to have understood all the nuances of meaning that are presented here, the feeling, the longing, the hope for spring to bring a new beginning after past sorrows are all present in the glorious music, in the singing and, most of all, in the dancing performed so brilliantly and so exhaustingly by the dancers. The intricate rhythms of flamenco are clean, clear, precise and very fast, the glorious voice of Alicia Murillo soars with bell-like clarity and infinite beauty, and even the wailing songs of sorrow and pain are telling their own story and, although I have to admit I didn't understand a word, the heartfelt emotion was very clear.
Performed against a completely black backdrop and almost all in monochrome, even the two magnificent stallions were white (no, I cannot call them grey, pure white!). They were ridden onto the stage and performed a slow canter around the dancers, as if on a merry-go-round, and one in particular knew his music well and started his own rhythmic dance as it began.
I am rather at a loss to explain the purpose of the two diminutive drunken monks who toddled about the stage from time to time, mostly miming to the audience and maybe helping us to understand what was happening, but also encouraging all the others to drink too. They pointed out, in amazement, the tears appearing from the eyes of the enormous statue of the Madonna which had descended from above (I have to say that these actually looked like two drinking straws, but no matter). She arrives "with a velvet cloak and a Christian cross, but also a Moslem half moon". The Moorish roots are strong in Andalusia and almost the whole cast are from Seville and steeped in its history, although it you are looking for an explanation of that history you will not find it here.
There is no story as such. These are "images of Andalusia" through the ages and the images are very strong and very powerfully and dramatically presented with exceptional virtuosity.
The music was originally written by Carl Orff in 1936 and represents a selection of secular poems from the 12th and 13th Centuries. Manuscripts were found in a Bavarian monastery (so that's where those monks come from) and although some are morally uplifting most are bawdy songs which celebrate drinking, dancing, gambling and lovemaking. Now I'm beginning to understand! Most of the music is recorded, played by the Royal Symphonic Orchestra of Seville, but is also provided by three guitarists and percussion, flute (and also dance) by a versatile Juan Romero.
The dancers are Marco Vargas and Francisco Carrasco who are also representing the gory beauty (?) of the bullfight as they are impaled on the horns of the metal "bulls" each side of the stage
Principal dancer – and she is constantly on stage – is Lalo Tejada who works herself into a frenzy as she dances on the enormous cross, which is also lowered from above, before being 'crucified' as the cross is raised to face the audience. There are some strange and (to me) inexplicable images here!
The evening ends as it began, with music and a choir repeating "In the wheel of the fortune a man rises and another falls", while a Ferris wheel takes four nymphs up and down, up and down.
No standing ovation – well, we are English after all – but enthusiastic applause, rhythmic clapping, and numerous curtain calls testify to the appreciation of the Woking audience. A strangely intriguing and mystical account of Andalusia, fascinating, mystifying and unique.
Now on its way to Bradford, Norwich, Canterbury and Cardiff . Don't miss it!
Katharine Capocci reviewed this production in Newcastle
Reviewer: Sheila Connor