Carnaby Street
Carl Leighton-Pope
Carnaby Street Promotions
Hackney Empire
–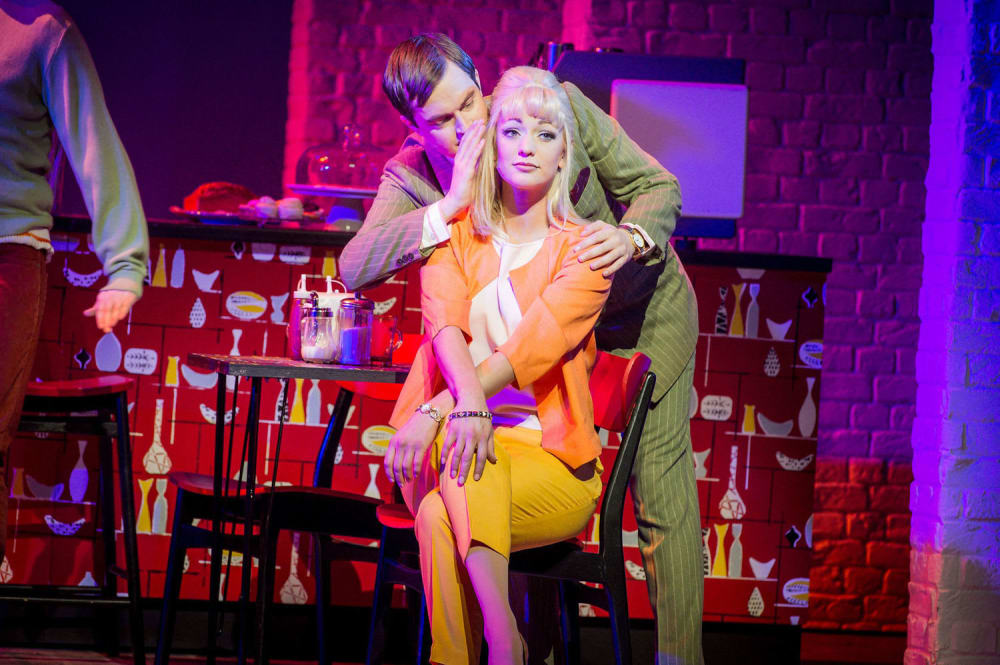 This is a juke-box musical made up not of one groups song book but a whole range of record hits from the "swinging" sixties when Carnaby Street and Soho were central to the youth and music scene.
When the opening request to turn off your mobile (because they didn't exist in the sixties) goes on to encourage the audience to join in the singing or clap along you get an immediate idea of what this show is aiming at so perhaps it is a bit churlish to complain that book is so thin.
Carl Leighton-Pope has devised a simple story of Liverpool lad Jude who comes to London with guitar and girl, Penny Lane, meets young cockney fixer Jack and gets into a rock band and then with the help of lord's daughter Lady Jane gets a record contract and it goes on from there through rock and ruptured romance to a happy resolution. Fortunately there are plenty of songs from that time that address someone directly which helps make them have a semblance of dialogue, but the names of that pair from the north are a reminder of some songs that might have been there if more copyright holders had been co-operative. That still provides plenty of old favourites ranging from Chuck Berry to Bert Bacharach, "Twist and Shout" to "Downtown".
Two new numbers from James Hall are used to set the look-backwards opening and to provide Jude's breakthrough number, which could hardly pinch one that already existed.
With forty numbers packed into two hours plus interval there is not much time for more than a few lines between songs and often these are a quick headlines from newspaper-seller Al to remind us of just what was happening, often being made comic by what has happened since. That puts the onus for creating character almost entirely on the actors, and sometimes the songs help them, but since this is in the main a nostalgia fest they have to deliver them without reinterpretation.
Since most of the songs are delivered centre stage, straight out front, with the band on a rostrum up stage this does could feel more like a straight music gig than a musical were it not for the energy of the actors, Matthew Wright's colourful costumes and Carole Todd's choreography. The dancing is kept pretty simple, nothing spectacular but with a suggestion of the right moves for the period and under director Bob Thomson and the actor's high energy levels things keep cracking on.
This is not going to be competition for the long-running west end musicals but the rather elderly audience I saw it with (not on press night) appeared to be enjoying it thoroughly, not least because the infectious enthusiasm radiating from the stage. I didn't hear much singing along but they warmed up to rhythmic clapping. Every number got warm applause and by the curtain call medley there were no-longer slim ladies up on their feet dancing and trying to get their husbands to join them. These were people having a good night out, and without having to pay West End prices for the tickets or their drinks and that must be a good thing.
They also got some excellent singing, though the sound balance could have been kinder to their voices. The engineers should listen to the original recordings: they would find the voice took precedence. .Tricia Adele-Turner as Lady Jane gave some Dusty Springfield numbers, Aaron Sidwell makes a perky cockney sparrow of Jack, happily pitching out to the audience and Mathew Wycliffe's Jude is almost bashfully charming even when behaving badly. Then there is Paul Hazel as Lily, first grabbing the eye posing in an electric green outfit and then by sheer exuberant personality. It's an outrageous performance that could be degrading if he didn't make him so loveable. None of those camp Carnaby Street clothiers was every quite so outrageous as this queen – homosexuality then was still illegal. If it weren't for the strength of the rest of the company, including a band with a Beatle-ish look and three lady saxophonists, lovely Lily would have stolen the show.
Touring dates are: High Wycombe Swan Theatre 16 - 20 April, Rhyl Pavilion 22 - 17 April, Hastings White Rock Theatre 29 April - 4 May, Windsor Royal Theatre 7- 11 May, 14 - 18 May, Manchester Opera House 20 - 25 May, Lowestoft Marina Theatre 27 May - 1 June, Birmingham Alexandra Theatre 10 - 15 June, St Albans Alban Arena 10 - 15 June, Bournemouth Pavilion 26 - 29 June 2013.

Reviewer: Howard Loxton