Caroline, or Change
Book and lyrics by Tony Kushner, music by Jeanine Tesori
Chichester Festival Theatre
Chichester Minerva Theatre
–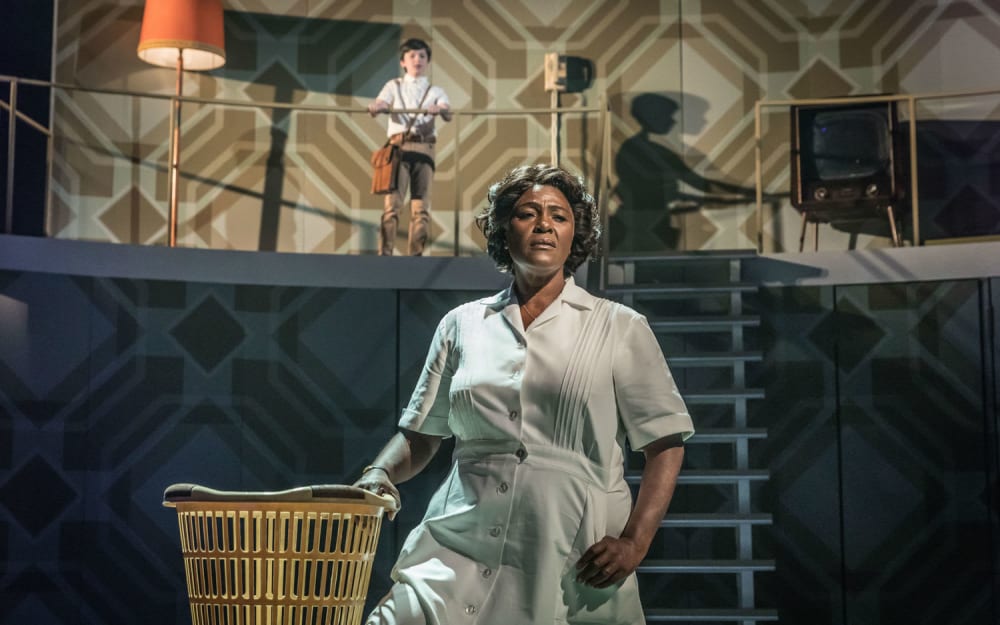 From Thoroughly Modern Millie on Monday to Caroline, or Change on Thursday in one easy move, both scores by the same composer, but what a contrast.
The first is a frivolous and fun look at the silly side of the Roaring Twenties and the second a deeply moving and totally involving story of poverty, injustice and discrimination set in Louisiana in the early 1960s, a time of change with the Civil Rights Movement gaining momentum, Martin Luther King fighting to end segregation and President Kennedy's assassination taking place on live TV.
Slavery is not so very far in the past and a statue of a Confederate soldier dominates the set, to be swept away and replaced with the basement of the middle-class Jewish Gellman household where Caroline, the black maid, does the laundry.
This is Caroline's world, dominated by the washing machine, the dryer and the radio, all given quirky life in human form with a bubble-clad Me'sha Bryan as The Washing Machine and three glamorous singing sisters as The Radio (Gloria Onitiri, Jennifer Saayeng and Keisha Amponsa Banson).
Ako Mitchell's deep Blues bass introduces The Drier, the music throughout not just following the action but blending seamlessly with every mood using a variety of styles inspired by blues, soul, Motown, classical music and Jewish folk songs, all played exquisitely by Nigel Lilley's eleven strong orchestra and the whole sung through with a passion and dedication which captivates and enslaves (if this isn't a bad word to use in this context) the audience.
Change in the title also refers to the loose change young Noah Gellman often leaves in his laundry. His stepmother, Rose, aiming to give him a sense of responsibility, insists Caroline should keep it, a system which works well until a $20 note is involved.
Sharon D Clarke as Caroline is calm, stoical, and world-weary, but accepting her lot, until the thought that she had almost been prepared to take money from a child causes her to question her life and her beliefs. Wary of the changes she sees coming in her world, she worries that teenage daughter Emmie is too outspoken, foreseeing trouble.
At the Gellman's family Chanuka, a joyous occasion of dance and feast, Emmie, who is waiting on table, locks horns with grandfather Mr Stopnick (Teddy Kepner) and a shouting match develops on the rights of peaceful or violent demonstrations, the audience holding its breath for possible repercussions. Mr Stopnick, however, reckoned it was the best conversation he had had all evening.
The small children in this production (James Gava and Josiah Choto) are absolutely amazing, so natural and real yet playing their parts with confidence and without putting a foot wrong, while Charlie Gallacher is equally amazing as Noah catching perfectly the childish love-hate relationship with Caroline and his uncertainty about his feeling for stepmother Rose (Lauren Ward), who in her turn is trying hard to help everyone but uncertain of her reception.
A towering performance from Abiona Omonua's Emmie closes the show with a lengthy and passionately delivered epilogue and on a note of hope for a better future.
Whatever happens below, The Moon (Angela Caesar) glides calmly and peacefully over it all—constant and the only object never to change—so far!
Reviewer: Sheila Connor