Caroline, or Change
Tony Kushner and Jeanine Tersori
Chichester Festival Theatre in association with Hampstead Theatre
Playhouse Theatre
–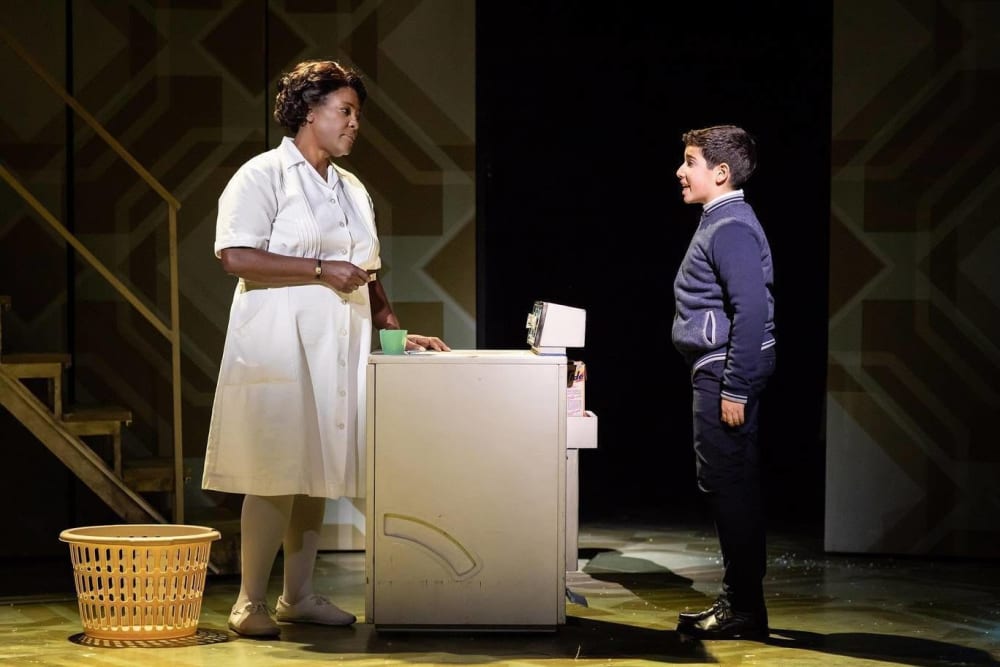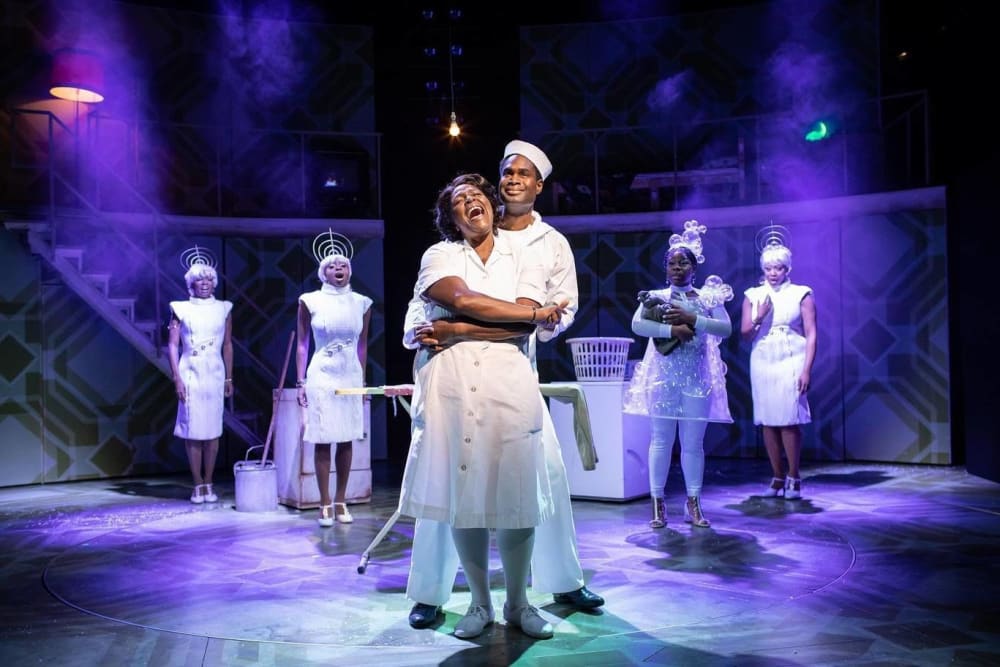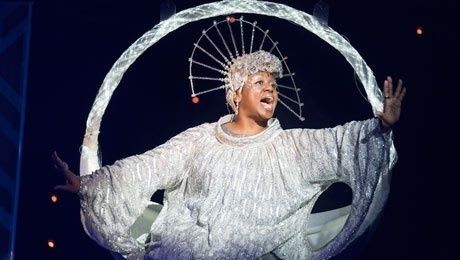 Now in the West End after seasons at Chichester and Hampstead, this is a vibrant staging of Kushner's story set in 1963 in Lake Charles, Louisiana which centres on Caroline, black daily maid of the Jewish Gellmans, and eight-year-old Noah. The change is the small coins she finds in Noah and his father's pockets when putting things in the wash and which stepmother Rose tells Caroline that she can keep. More significantly, it's also the change in black lives and in America as African Americans protest their rights.
The first act opens with a statue of a Confederate hero centre-stage; the second begins with it fragmented and fallen. That's not part of the action, there's just a passing reference to it, but there's a significant difference in atmosphere between the acts.
Caroline spends life down in the basement with washing machine, dryer and radio her company (here surreally personified as bubble-covered glittery female, the dryer a rich-voiced red-highlighted demon and the radio and a Three Degrees type trio in a series of stylish gowns). Characters also include a butch Bus and the Moon, hanging shimmering overhead.
Caroline is friend and confidante to unhappy Noah, still missing his cancer-taken mother and resenting Rose (though Rose isn't happy either). They bridge the difference between his life and hers, raising three children single-handed, but ingrown attitudes will out.
Caroline's friend Dotty chides Caroline for accepting the way her employer treats her and when, on giving news of Kennedy's assassination to her daughter Emmie, she says she doesn't care for he never fulfilled the promises he gave to black folk.
In the second act, things get more overtly political, while memories of her husband, so loving until domestic violence made her drive him away, begin to unsettle Caroline. Her daughter, helping at the Gellman's Chanukah party, has a shouting match with Noah's maternal granddad, an old revolutionary socialist who criticises black pacific protest while Noah reveals a strain of inbred racism.
The music is a vibrant blend of soul, blues and Motown with klezmer and operatic touches and it is sung with vigour and feeling from Ako Mitchell's rich-voiced Dryer, Me'Sha Bryn's bubbly Washing Machine, the Radio trio (Dujonna Gift-Simms, Tanisha Spring and Keisha Amponsa Banson) and Angela Caesar's comment-making Moon, Naana Agyei-Ampadu as Caroline's friend Dottie, all the Gellmans and Teddy Kempner's passionate Grandpa Stopnick (too brief a cameo).
I saw a sensitive Noah from Aaron Gelkoff and spirited performances from Kenyah Sandy and David Dube (one of three sets of youngsters across the run) and Abiona Omonua is a fine Emmie, a performance peaking in her final number.
A decade ago, I found the National Theatre's British première confusing. Michael Longhurst's production provides clarity and welds the company into an ensemble from which prominence passes from character to character but at its heart is Sharon D Clarke as Caroline. Her powerful voice and charismatic personality have long been recognised but she is also a fine actress, convincing as the put-upon maid, the diva channelled into the strength of feeling and the richness of her singing, a performance that genuinely earns the standing ovation that the audience accords it.
Reviewer: Howard Loxton