Caroline's Kitchen
Torben Betts
The Original Theatre Company, Ghost Light Theatre and Eilene Davidson
Derby Theatre
–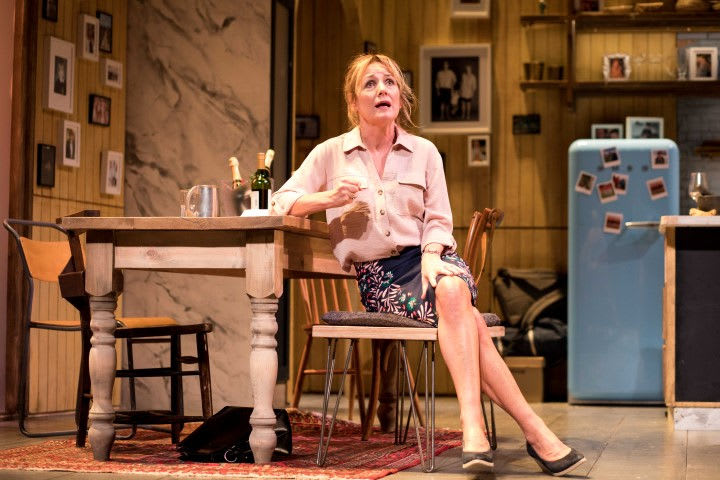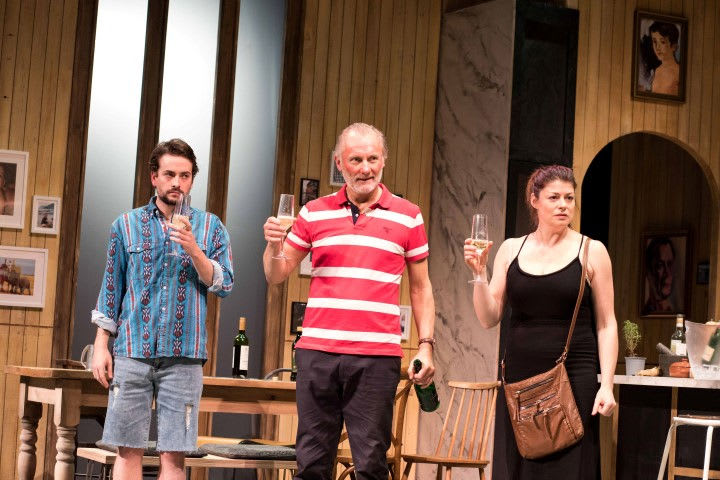 What happens when television cameras stop broadcasting and the so-called stars return to their normal lives? Is everything just as it appears or are the people we welcome into our living rooms totally different when they go back to their own homes?
That's the starting point for Torben Betts's play Caroline's Kitchen. He felt that, for instance, TV cookery programmes portrayed an ideal lifestyle: perfect family, perfect house, perfect friends. The reality might be totally different.
Betts says he, "likes messing about with what some might call old-fashioned ways of doing plays. Gathering people in one place and making it hard for them to leave and then turning up the heat."
He succeeds admirably with Caroline's Kitchen. The central character appears to have it all as well as being a celebrity chef for a living. But as the play unfolds, it becomes apparent that her life has a soggier bottom than a cake on The Great British Bake Off.
Betts infuses his play with six characters who all have huge personal problems. They either won't face up to them or are prevented from talking about them by someone else who thinks his or her predicament is greater. It leads to an excellent evening's entertainment with an unexpected ending.
Caroline's Kitchen is a slow burner but builds to a steaming climax. The second half is especially funny, with Betts capable of having the audience guffawing at a particular revelation followed immediately by an intensely poignant moment.
The play is set in the present day in the kitchen of Caroline and Mike Mortimer's home in north London. The swanky, ultra-modern kitchen is where her TV show is recorded and rehearsals are under way for the following day's programme. But soon, cracks begin to appear.
Caroline Langrishe is superb as the TV chef. Caroline is so self-obsessed and worried about a national newspaper that's going to print pictures of her drunkenly falling out of a taxi at 3AM that she's unable to recognise other people's problems. Langrishe shows that somewhere there's a decent side to Caroline and you actually empathise with her difficulties.
Aden Gillett competently shows golf-loving Mike to be an old-fashioned father who finds it hard to express love to his family. Nor will he accept that the world has changed.
Tom England gives a fabulous portrayal of their son Leo, starved of love by both parents and increasingly frustrated because the one person he thinks he can confide in, his mother, is too wrapped up with her own dilemmas.
There are competent performances from James Sutton as Graeme the builder who has the hots for Caroline and Elizabeth Boag as his unstable wife Sally. She pretends to be interested in buying the Mortimers' house so that she can confront her husband and Caroline about their affair.
Jasmyn Banks completes the cast as Amanda, the fast-talking TV production assistant whose bravado masks her loneliness. It's a good performance, although her diction suffers because of the speed of her delivery.
Alistair Whatley directs sensitively, bringing out the humour and pathos of Betts's script.
Caroline's Kitchen is a real feast. Good to see that so many people at Derby Theatre had an appetite for it. Haute cuisine indeed.
Reviewer: Steve Orme