Carols & Cocktails
Ben Dickenson
Alphabetti
Alphabetti Theatre, Newcastle
–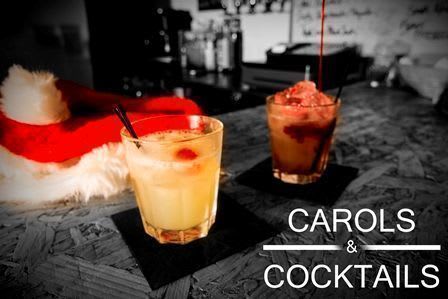 Christmas is all about having fun, isn't it? About being surrounded by those you love and who love you and spending real quality time together? About sharing the love and the good will with all around you?
Of course it isn't! It's about all the everyday problems, hurts and failures, impossible desires and inevitable rejections—but with added pressure to be jolly.
And that's what Ben Dickenson's Carols & Cocktails gives us. We're at an office party—we're actually there, not watching one on a stage. I mean, Carol (the girl both the guys onstage fancy) was actually sitting behind me. Well, actually she didn't know she was Carol when she came in—she thought she was a just a member of the audience—but she soon learned the truth.
And we were served a cocktail. In fact, it was apple juice and cinnamon with (possibly, but it was hard to tell because we weren't actually given that much) some vodka in it, somewhere. Possibly…
So yes, we were at that party, hosted by the IT department—musicians John, the dept head, and his assistant Phil—and in no time at all we became privy to Phil's problems with his nana who's in a home, to John's state of mourning over the departure of his former lover as he clings to her scarf like a comfort blanket, to John's brown-nosing the boss (and Phil's reaction to that), to their secret desire to score with the aforementioned Carol…
And all the time this is being revealed we are entertained by—and join in—Christmas songs, played as well as sung by our two… er… Protagonists? Not heroes. Definitely not heroes.
Not only did we sing along but the man next to me was given a set of bells so he could jingle appropriately. And if at times the singing from the stage did get a bit manic… well, it is Christmas after all. And they were under a lot of pressure.
And so this is Christmas, in all its tarnished glory. There's matter here for many another play, with so many themes and back-stories whizzing around, but that's not the point. We don't expect any development, any resolution. That's not what it's about.
Under Ali Pritchard's direction, John Dalziel (John) and Lawrence Neale (Phil) carry the piece along at a tremendous lick, showing us two very different, damaged characters, desperate to forget their problems and have a good time. In 80 minutes, including interval, Dickenson's play encapsulates some of the worst aspects of Christmas. The publicity material emphasises the cringeworthy nature of so many office parties but this play goes beyond that cliché to give us a feeling of what lies behind the awful party behaviour.
And if that makes it sound a bit dull and worthy, it isn't. It's very funny and, like all the best comedy, it's that laughter that illuminates the sadness beneath.
This is my last Christmas show review of the current season. It's a good one to end on!
Reviewer: Peter Lathan