Carousel
Book and lyrics by Oscar Hammerstein II, based on Ferenc Molnar's play Liliom, music by Richard Rogers
Morphic Graffiti
Arcola Theatre
–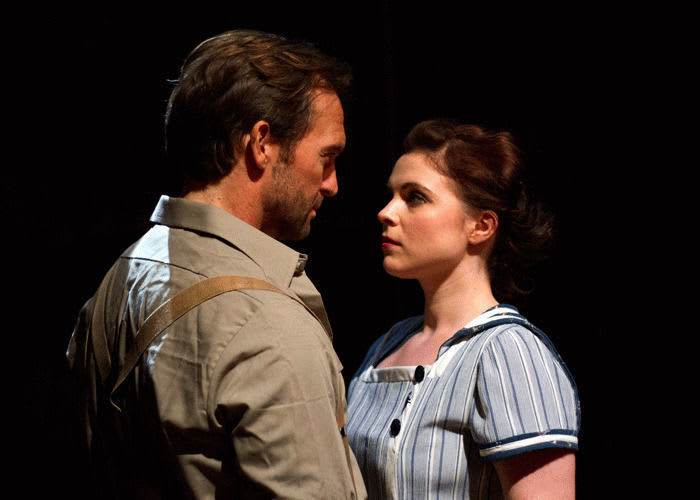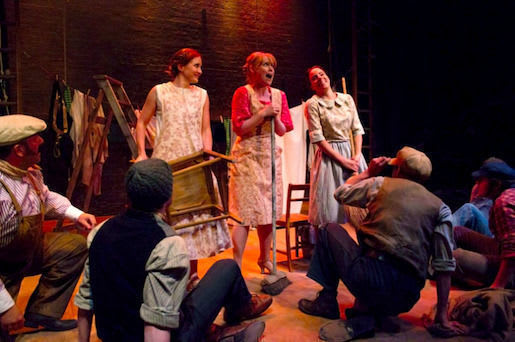 Fringe fanciers have got used to a succession of lively productions that try out new musicals or breathe new life into old and forgotten ones, but Carousel is one of the big ones, some have called it the greatest of Broadway musicals.
How can this "scaled down" production compete with memories of West End and National Theatre productions? The truth is it is different and doesn't have to, but, as a piece of theatre, it is up there with the best of them and has the edge on must musicals you see today in that there isn't a microphone anywhere.
It has been arranged for a great band: a quintet of piano, harp (used most expressively), woodwind, percussion and double bass that fills the theatre with sound without swamping the singers. And this cast aren't just good singers, they are all actors and dancers with the talent to handle Lee Proud's demanding choreography.
Director Luke Fredericks and designer Stewart Charlesworth have updated the setting 60 years from Molnar's 1870s with costumes that link more easily to our own times, but when it might still be possible for factory girls to live in the company's dormitories.
It is quite hard to take a tale in which the lead characters, mill girl Julie Jordan and fair barker Billy Bigelow, accept losing their jobs so easily, where romantic sentiment can make a blow "seem like a kiss" and which suddenly transports the action to the back door of heaven, but in this production such things don't seem a problem.
While, on the one hand, performers invest their roles with such sincerity they feel emotionally true, on the other there is framing of stylisation that wraps the whole production in theatre magic. It helps a critique of class privilege sit easily alongside bringing stars down from heaven.
The trick is the way that Frederick, Charlesworth and Proud handle what Rodgers and Hammerstein provided instead of an overture: the "Carousel Waltz".
Following a 1945 prologue of Julie remembering her first encounter with Billy, her dreamlike recollection of the whirl of the fairground is conjured up not with a real roundabout and scenery but a choreographic montage of elements that present its circus-like characters, the acrobats and the contortionists, the strong man, the bearded lady and fire eater, the tights, leotards, spangles and feathers and a glimpse of the whirling machinery, the galloping horses.
These show people, makers of magic, can be seen later on at significant moments, scattering petals to make romance more romantic, taking their place as Heaven's errand boys, or helping the rest of the cast reassemble the packing cases, hangings and furniture to create each new setting.
It is a show in which one great number quickly follows another performed with feeling and clear natural voices. Lee Proud's vibrant dances, made even more exciting by their daring proximity, are delivered with energy and pinpoint accuracy.
As well as the led pair, there is a delightful performance from Vicki Lee Taylor as cookie Carrie Pipperidge, comic and touching at the same time, with back up from Joel Montague as gentle Enoch Snow, the man she sings about marrying in that famous number.
Valerie Cutko as Billy's carousel boss Mrs Mullin implies a whole level to their relationship that makes her almost tragic Richard Kent a suitably despicable Jigger Craigin, the crook whose planned robbery is so fatal for Bigelow.
There is Amanda Minihan as warm-hearted Nettie Fowler, leading the singing of "June is Bursting Out All Over" and "A Real Nice Clambake," and a somewhat restrained version of the epic "You'll Never Walk Alone". Paul Hutton metamorphoses from a ringmaster figure into mill owner Bascombe, a delightfully comic Starkeeper in heaven and the local doctor who delivers the final speech at Julie's daughter Louise's graduation that gave Molnar's story a more upbeat ending and Anton Fosh and Susie Porter dance Louise and her Carnival Boy with skill and emotion.
There is a deliciously funny scene where Carrie is helping Enoch wash off his fishiness and Nettie's surprise in his nakedness. Comedy is fluidly interwoven with sentiment and, though emotions run high, they never become slushy.
Things are brought down to earth when the clambake outing leads to snatched rumpy pumpy and excessive clam-eating to cases of vomiting and, though there is no suggestion of the 'thirties aftermath of the Recession, class disadvantage is marked by Billy's downgrading in Heaven and the outfit sported by newly-monied Carrie when she returns from her 1945 jaunt to New York.
It is a production that has its feet on the ground as well as its head in the stars and it is all so enormously enjoyable that you forgive the contrivance to make things come right in the end.
Reviewer: Howard Loxton