Carrie's War
Nina Bawden, adapted by Emma Reeves
Noveltheatre
The Lyceum Theatre, Sheffield, and touring
(2010)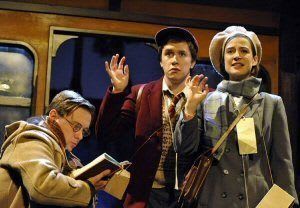 Nina Bawden's novel Carrie's War, a children's book that appeals to people of all ages (first published in 1973), is based on her own experience as a wartime evacuee, sent from London to Wales to escape the blitz.
Emma Reeves'excellent stage adaptation is faithful to the original text and presents the quite complex narrative clearly and economically. As well as the core group of actors playing main characters in the story, an additional group takes on a galaxy of secondary characters, effectively defining them through changes in body posture, facial appearance and speech patterns. This group also constitutes the small but very effective Welsh choir, which adds emotional texture at key moments in the action.
Noveltheatre (Artistic Director, Andrew Loudon) is a company dedicated to adapting 'classic and inspirational books for the stage'. This production of Carrie's War has already been well received in London, and is now touring with a different cast.
This is an extremely coherent production: Edward Lipsom's solid realistic set, which manages to suggest a hillside and dark, leafy valley as well as two substantial houses, perfectly complements Reeves' adaptation and Loudon's directing style.
Three young evacuees, played by Sarah Edwardson (Carrie), James Byng (Carrie's younger brother Nick) and Antony Eden (Albert, a bookish, sensitive orphan) are billeted in two nearby houses in the same Welsh valley.
The occupants of the two houses are estranged members of the same family. Mr Evans (Sion Tudor Owen) lives with his much younger sister, known to the children as Auntie Lou (Hannah Waterman), and has had nothing to do with his older sister, Mrs Gotobed (Brigit Forsyth) since her marriage to the local mine owner, whom he blames for his father's death in a mine accident.
Mrs Gotobed, now widowed and ailing, is a Miss Haversham character, who relives her previous happy life of parties and dances by dressing up in a different ball gown for each remaining day of her life. She is cared for at Druid's Bottom by Hepzibah (Lorna Gale), a wise woman, herbalist and story teller, and is supported on the farm by the disabled Mr Johnny (superbly played by James Beddard, who himself has cerebral palsy).
Catapulted into this strange new environment, the children have to try and make sense of the mystical, even magical context they find themselves in, and to find ways of understanding and coming to terms with adult behaviour which is confusing and often painful. Young Nick develops a symbiotic relationship with Mr Johnny, who initially frightens him, and is able to interpret the slurred sounds made by Mr Johnny when others can't understand him.
Each member of the cast finds depth of characterisation: Mr Evans is more than a two-faced, bible quoting tyrant; Mrs Gotobed, despite her eccentricity, is philosophical and accepts death calmly; Auntie Lou, after years of bullying and humiliation, finds the spark of rebellion which enables her to run away with her American major. Mr Johnny shows that he is capable of love, sympathy and justifiable anger when taunted by the slobbish and insensitive Frederick.
At the heart of the play is the experience of the three young evacuees, convincingly performed by the three principals. Carrie is the most complex of the three, teetering on the brink of maturity, but making errors of judgement, which she regrets and tries to rectify. But the fact that she can empathise with the broken and deserted Mr Evans at the end of the play means that she is progessing well on her journey to mature understanding.
"Carrie's War" continues at The Lyceum until 18th September and then tours to Norwich, Bath, Edinburgh, Richmond, Worthing, Cardiff, Glasgow and Belfast.
Reviewer: Velda Harris