Carson and the Lady
Michael Cameron
Antrim and Newtownabbey Borough Council, Theatre at The Mill
Antrim Castle Gardens
–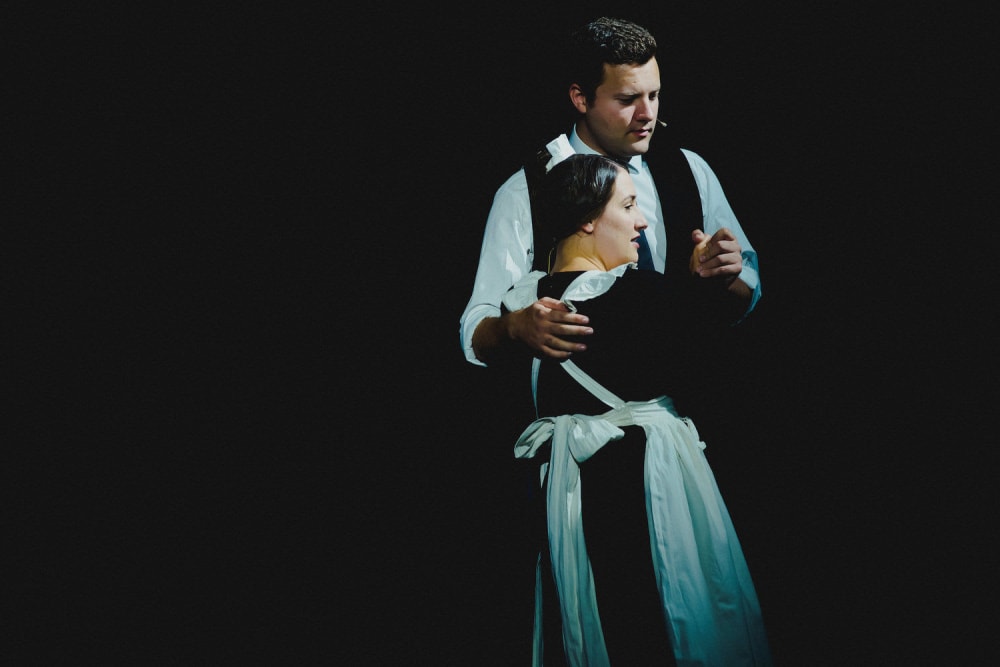 There's a fine, important play waiting to be found in Michael Cameron's Carson and the Lady, a portrait of the relationship between two key figures in the creation of Northern Ireland and the emergence of its dominant Unionist politics, staged al fresco in the gardens of Antrim Castle.
Marking the centenary of the creation of Northern Ireland in 1921, Cameron's sprawling, somewhat unfocused study follows Ruby!, his exhilarating 2019 breakthrough play, another portrait piece, albeit of a very different Northern Irish figure, the popular 1950s singing star, Ruby Murray.
But where that earlier piece showed flair and vitality, this latest offering is hindered by Cameron's uncertain way with historical facts, hampered by a parallel below-stairs relationship between two religion-divided servants, and distracted by the inclusion of the exotic, well-born Welsh occultist, Evan Morgan.
Previewed at Newtownabbey's Theatre at the Mill, absent on the night was the sense of place and occasion that subsequent open-air performances in nearby Antrim Castle Gardens will undoubtedly provide, despite the play's largely interior settings.
A former Northern Ireland Office official-turned-playwright, Cameron's political nouse (informed by local historian Lyndsy Spence) rather fails him here in Colm G Doran's slow-paced and domestically-accented production. It's a glib but apposite comparison to reference Downton Abbey, as both writing and staging seem to ape its glossy soap opera contrivances.
Both are superbly served by a typically charismatic performance by James Doran as Edward Carson—the architect of Northern Irish Unionist politics and founder of the paramilitary Ulster Volunteer Force. Under the radar, Doran has become one of Northern Ireland's most compelling actors and here he brings nuanced stature and substance to a controversial figure with utter conviction and a lightly-worn but engaging gravitas.
The eponymous Lady is the prominent MP's daughter and high-married Jean Massereene, a rare female voice in the politics of Northern Ireland at its birth, who employed her Antrim Castle home as a base for strident nascent Unionism. Rosie McClelland makes much of what she's given, but never comes fully into focus, caught in a farcical ménage à trois with Doran's Carson and Conor O'Donnell's cartoon-like Aleister Crowley apostle Morgan.
O'Donnell doubles as the increasingly resentful Catholic manservant, Thomas, implicated by Cameron in the burning down of the Castle in 1922, but is too prosaically sketched out in the writing and playing.
His love interest, the Protestant maid Ethel, is played with likable vivacity by Rosie Barry, who provides moments of telling pathos in the emerging sectarian divide as well as the evening's biggest laughs as she cocks one well-aimed snook after another at her well-to-do superiors.
But the impression remains that, within the strained upstairs-downstairs dynamics where Cameron strives for unnecessary colour and superfluous commentary, a clearer, cleaner focus on the relationship between the titular Carson and the Lady would have produced a more satisfying and pertinent evening.
Reviewer: Michael Quinn