Carthage
Chris Thompson
Theatre Bench in association with Neil McPherson for the Finborough Theatre
–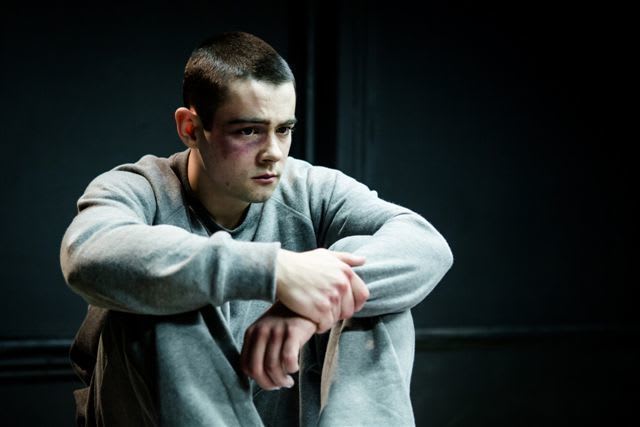 This is a play about a "fucked up children in a fucked up system" as prison officer Marcus reeves puts it and in particular about a young lad called Tommy Anderson.
Marcus is Tommy's caseworker; he was there and in charge when Tommy died while under severe restraint by prison officers. But it is not just about one boy; it is about the prison officers and the social workers and their role in the system that failed Tommy, a boy born in prison, taken in care, abandoned three times by his mother, fostered by a black couple, and now back in prison for a crime that is never actually specified.
Dramatist Chris Thompson, whose first play this is, here getting its world première, is currently the Channel 4 Playwright in Residence at the Finborough Theatre. He is himself an experienced social worker so it isn't surprising that this play and its characters ring with a strong sense of reality, but that is not just in the writing; it is in the directness of Robert Hastie's direction, the simplicity of James Perkins's setting and the discreet use of sound to support the action and suggest the echoing sound of prison life.
On the surface, the plot would seem to be about whether Marcus is to blame for Tommy's death, but it isn't that simple. In scenes that move back and forwards in time over fifteen years but never leave any doubt about when, where and what is happening, it takes a much wider look at responsibility in family, professionally and in society and does it through the situations of vividly created characters who are sometimes fascinatingly unpredictable.
While always serious in its handling of a difficult and controversial topic, the play is full of humour that often grows from its honest and real portrayal of its characters.
The chronological beginning has foul-mouthed fifteen-year-old Anne Anderson in prison and very heavily pregnant. Her prison case worker and her social worker Sue Ruskin are trying to talk to her seriously: will she be allowed to keep her baby? Anne's only interest is in whether she can keep her cell TV set. She knows just how to wind them up and get her own way.
In another hilarious sequence, Tommy and his mother, both smashed on coke and cannabis and alternating Jeremy Kyle and Cash in the Attic on the telly, hide behind a sofa while Sue peers through the letterbox, calling out to Tommy to remind him of the time that he picked her up and dumped her in a wheelie bin.
Claire-Louise Cordwell plays Anne from 15 to 30, self-centred and strident to hide her vulnerable inadequacies, and her son is developing just like his mother. Jack McMullen's Tommy may say "Do I look like I care a fuck" but he is fidgety and frightened for all his bravado.
Lisa Palfrey's Sue is forthright but caring, her practicality supported by sly humour, and Toby Wharton as Marcus suggests a man truly concerned for his charges but put into a situation that he can hardly handle; though he knows himself to be innocent he feels guilty.
The rest of the cast is equally convincing as prison staff and members of social services and the staging is at times disturbingly graphic at such close quarters, though a structure that keeps characters from one scene on stage until the start of the next provides a distancing formality that sharpens the questions that this play poses.
Reviewer: Howard Loxton