Casablanca: The Gin Joint Cut
Morag Fullarton
Gilded Balloon
Pleasance Theatre Islington
–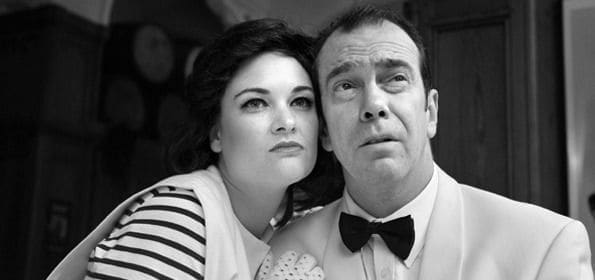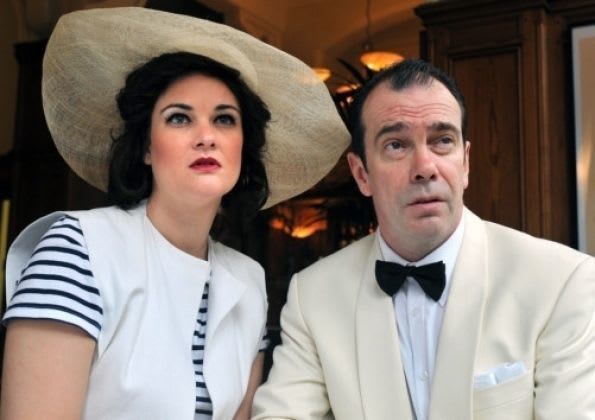 Trailing echoes of laughter after playing at the Tron Theatre Glasgow and the Edinburgh Fringe, this is a spoof of a spoof. It presents a jokey rep company offering its own reenactment of the classic Hollywood movie.
"Spoof" suggests its humour, but isn't really the right thing to call it. To quote Morag Fullerton's script (which draws heavily on the actual film dialogue), it is "an homage, a billet-doux to one of the greatest films ever made". While highly hilarious, at the same time it takes itself very seriously. Its talented cast can insert a moment of insanity or perpetrate blatant caricature and slip straight back into the drama. Don't ask how they do, they are just very good.
There's an introductory framing of actors preparing, which incorporates some corny Hollywood anecdotes, some of which may be true. It includes a dashing display of pistol twirling by the irrepressible Jimmy Chisholm and a classic comic mime of smoking when Gavin Mitchell takes a cigarette case from his pocket right through to stubbing out in an ashtray. That leads to a running no-smoking law gag that interrupts the action every time a character lights up a forbidden fag.
Mitchell is a gravel-voiced personification of Humphrey Bogart playing Rick Blain. Clare Waugh not only stands in for Ingrid Bergman's Ilsa Lund, Rick's long-lost love, but (Heil Hitler!) the Third Reich's Major Stressed.
Chisholm, slipping on a variety of jackets and titfers, manages to send up Peter Lorre, Claude Rains and Paul Heinreid while at the same time delivering their characters precisely as shady crook, French police chief and Czech resistance refugee. As for "play it again" Sam, he and his piano get miniaturised. Between them they give us all the highlights of the 1942 movie, helped by a rousing "Marseillaise" from the audience.
This is 80 minutes of sheer enjoyment; cleverly crafted by writer-director Morag Fullarton and beautifully played by a trio who seem able to surprise even when you know exactly what's coming in a show that comes over ever fresh though created some time ago.
Reviewer: Howard Loxton