Casanova
Created by Carol Ann Duffy and Told by an Idiot
West Yorkshire Playhouse, Leeds, and touring
(2007)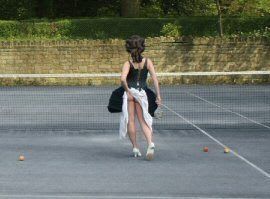 The story of Casanova, the legendary lover, has almost become just that: legend. Told By An Idiot and Carol Ann Duffy have therefore collaborated to make "a third-person fairy tale" in order to tell their version of the legend. However in this fairy tale the hero is more significantly a heroine: Casanova the Woman.
Told By An Idiot's Hayley Carmichael leads a multilingual cast through the trials, escapes, escapades, chances, journeys and loves of the female Casanova in 1755 and onwards. She capers, trips and runs through Europe, leaving behind her a wake of seduced admirers, over stimulated imaginations and a relentless detective who must return her to prison. This is a significantly different approach to the traditional sex filled stories of the original Casanova, and Carol Ann Duffy's writing brings a woman who begets love by giving it, and inspires by generously sharing her creative talents.
Interestingly Judith Summers' biography of Casanova proposes that the man himself was decidedly influenced by strong women in his life and that later in his life he occasionally dressed as a woman; he was attracted to strong-minded women and only pursued those who presented him with an intellectual as well as a romantic challenge.
What, therefore, do we expect of the female Casanova? A witty woman with a gift of the gab? A strong woman who always manages to turn a situation to her advantage? A fast thinking, seductively clever, fair but firm woman who sees no boundaries to her situation defined by her sex? With the fabulous poster being a cheeky (literally) rococo version of Athena's tennis girl, we expect all this and more.
Unfortunately Told By An Idiot fail to deliver and leave us with a passive, dizzy Casanova who is to easily taken advantage of, whilst hurtling across Europe pursued by the detective. Her situation is never one of having the advantage but a temporary flash in the pan who, like the five minute celebrity, comes and goes, with the myth being better than the reality.
Naomi Wilkinson's elegant black set gives the cast an excellent climbing frame to weave themselves around and director Paul Drew gives us a striking scene to remember in the birth of Casanova's baby, but ultimately it is the script that fails. Whilst much of the delivery of the "third-person fairy tale" is engaging and swaps smoothly from observer to observed, this pattern soon becomes repetitive and the piece significantly lacks fast paced, clever, effective dialogue.
Hayley Carmichael's Casanova has a winning sweetness of temperament which endears her to her suitors but she misses the irresistible charm of an awe inspiring, deviant pragmatist. The cast do well with the material they are given and Johannes Flaschberger gives a subtly attractive performance in his many characters, especially the monk on whom Casanova performs sexual gymnastics.
Undoubtedly at the mention of the name Casanova, his (or her) sexual antics come to mind. Somehow this is sorely missing from the production, and the overall feeling on leaving the theatre is somewhat frustrated. The concentration of narrated material leaves the audience with a curious lack of excitement without the back and forth of arousing dialogue. Casanova's violin concert is physical fun but since we have no insights into the origins of her character's love for the music or some irrevocable moment that shaped her thus to stand out from society from the beginning, the story is strangely unsatisfying.
Casanova's parents were actors (or at least, more certainly, his mother was) and so surely this mutable character would have more flair for theatrical improvisation, bewitching people with his convincing performances which enables the audience to believe, because the performer believed in himself in whatever guise he wore. Duffy's tale is a tame record of flight from a feared detective, with a heroine who scrabbles for safety in the fickle hands of chance.
Told By An Idiot certainly prove Casanova's own thoughts right in that he did not pursue sex for its own sake and if he had nothing to say to a woman, rarely wanted to sleep with her. Without enticing, witty dialogue, this is rather dry piece which won't leave your thoughts stimulated till bed time.
Until September 29, then touring to Warwick Arts Centre, Northern Stage, Liverpool Playhouse and the Lyric, Hammersmith
This production was reviewed by Peter Lathan at Northern Stage, Newcastle, and by Philip Fisher at the Lyric, Hammersmith
Reviewer: Cecily Boys