Casanova
Philip Godfrey
Casanova Productions/Trilby Productions
Greenwich Playhouse
(2008)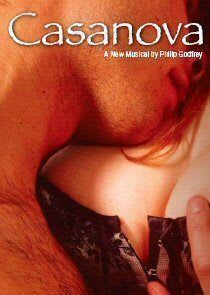 Philip Godfrey has written book, music and lyrics of this lively new musical, drawing largely on the twelve volumes of Giacomo Casanova's own memoirs La historie de ma vie. Full of sprightly tunes in an operetta/music theatre style, rather than pop, it is given a fast-paced production by director/ choreographer Tim McArthur with an ensemble of eleven who play three or four characters each, apart from Anthony Flaum in the title role. Even he, like the rest of the cast, spends far too much time pushing painted cubes about to reshape the setting from scene to scene, though Godfrey's music stops this from making the show lose momentum.
The intimacy of this small theatre, used here with the audience on three sides of a wide performance space, can make an audience very supportive but it also shows up every fault. The show opens with Casanova, librarian to Count Waldstein in his Bohemian castle, sitting in bed as Mozart's librettist Da Ponte talks him into writing his memoirs. The young Mr Flaum makes no attempt to suggest a man in his sixties, marked by life and disease, and their exchange of rather stilted dialogue does not get things of to a good start, though it provides the format for Casanova telling his own tale.
Fortunately Godfrey's skills shine in music and lyrics and McArthur is much better staging numbers than directing straight scenes and this show consists mainly of a succession of numbers that present a selection of the 120 adventures with women and girls that Casanova describes in those memoirs. Good singers, mercifully not miked, and the musicality of the show began to win me over.
There is a double entendre in that opening prologue when Casanova declared he 'could no longer rise to the occasion' that should have set the pattern for the rest of the show if they had got the scene right, but it was not until David Longden, as the Vatican's corrupt Cardinal Aquaviva, sang a number about need for tact in handling affairs and concealing personal predilections that I got properly into the mood of the show and began to properly share in the fun of intentionally outrageous performances, often unsubtle humour and delightful high camp, mingled with moments of real beauty for Godfrey can turn from a number about gonorrhoea with a delightful romantic duet like 'Every moment' sung by Casanova and his great love Henriette (Julia Addison).
Flaum makes a sturdily good-looking, tongue-in-cheek Casanova, engaging despite a little over grimacing, and in fine voice. Scott Armstrong is a fluttery Frederick the Great but the book doesn't explore any of the homosexual adventures that Casanova hints at, though there's a very funny sequence with the supposed castrato Bellino (Beth Davies) who turns out to be really female and as voracious as Casanova. While some of his affairs are exploitive and linked to other chicanery, Godfrey shows us Casanova as a genuine romantic. His love for a young girl (Michelle Whitney), whose father won't accept their engagement but places her in a convent, makes him go to Mass there each Sunday just to be in the same building - though it ends disastrously when an Inquisition spy traps him in an episode that allows William Ludwig and Libby Christensen to make the most of a voyeur French diplomat and his Mother Superior mistress for the nuns 'all practise celibacy but are only practising.' - while Casanova ends up in gaol.
Indeed Casanova has plenty of setbacks. He adores one young woman (Emma Fenney) who turns out to be his own daughter, born of an earlier love Lucrezia (Gemma Morsley, who also has her moment as Catherine the Great). Just in time, Lucrezia turns up and stops their marriage (but not the birth of a baby). Neverthless, the mood stays upbeat and the evening succeeds as a light hearted romp.
At Greenwich Playhouse until 8th June 2008
Reviewer: Howard Loxton