Cat on a Hot Tin Roof
Tennessee Williams
Clwyd Theatr Cymru
Clwyd Theatr Cymru
–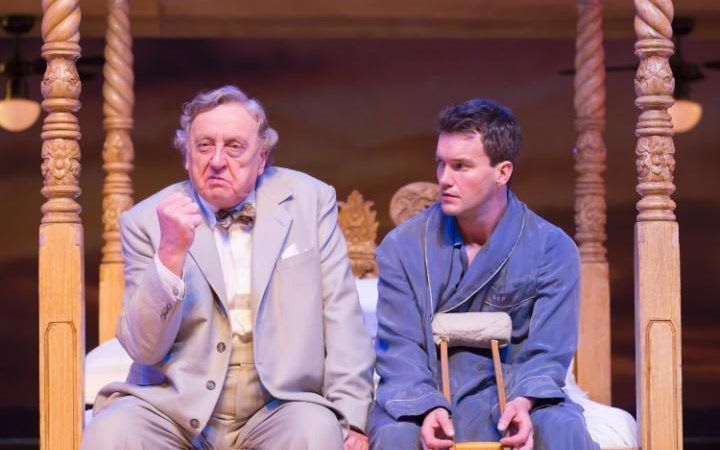 The first production of Tamara Harvey's reign as Artistic Director at Theatr Clwyd is the brooding Cat on a Hot Tin Roof, Tennessee Williams's 1955 Pulitzer Prize for Drama winner.
The themes, which include family feuds, marital strife, alcohol addiction and death, whilst not being as hard-hitting as when the play debuted, are still striking enough to enable director Robert Hastie to deliver a serious evening of drama.
All the action takes place in one room, the bedroom of principal characters Brick and Maggie but an eye-catching backdrop of the Mississippi Delta, along with subtle but effective light changes, enhances the developing themes. These swiftly reveal themselves during the course of the first part of the performance which is dominated by Catrin Stewart's Maggie, the Cat and a series of monologues by her which outline the main issues of the evening.
The Southern US dialogue required of the cast is a challenge, but Stewart skilfully delivers, enabling her character to make clear the concerns she has. These are basically the fact that Big Daddy is dying and she is convinced Gooper and his wife Mae will claim the whole inheritance of the Delta's biggest plantation.
Gareth David-Lloyd gives a controlled performance as Maggie's husband Brick, the almost monosyllabic ex-pro footballer and drunkard. However, the plot hinges on the role of Big Daddy on his 65th birthday. He is unaware of the fact that he is dying of cancer and the manoeuvrings that result from this and Desmond Barrit brings authority and no little humour to the role.
A perfect foil to the waspish tongue of Big Daddy is Abigail McKern as Big Mama, cleverly disguising whether his insults and rejection pierce her armour or bounce straight off.
Throughout the performance, it is the web of personal relationships that enable us to see the bitterness and jealousy unfold. The only hints of real love are between Big Daddy and his son Brick and the cloudy issue of the true extent of Brick's relationship with his footballing friend, the now-deceased Skipper.
The backdrop darkens along with the storyline as the evening unfolds towards a denouement that is largely bleak but with a hint of optimism for the future. This a challenging and brave production that hints at interesting times ahead and is sensitively delivered by a fine cast.
Reviewer: Dave Jennings