Cat on a Hot Tin Roof
Tennessee Williams
Curve, English Touring Theatre and Liverpool Everyman and Playhouse
Curve Theatre, Leicester
–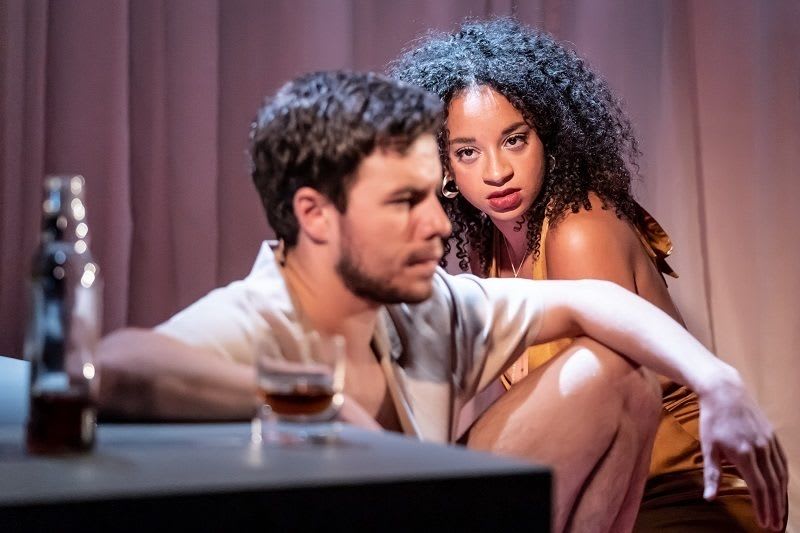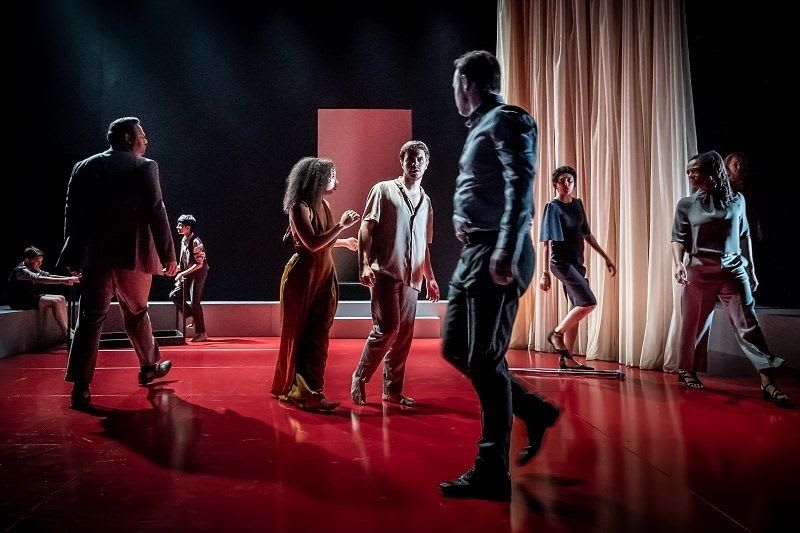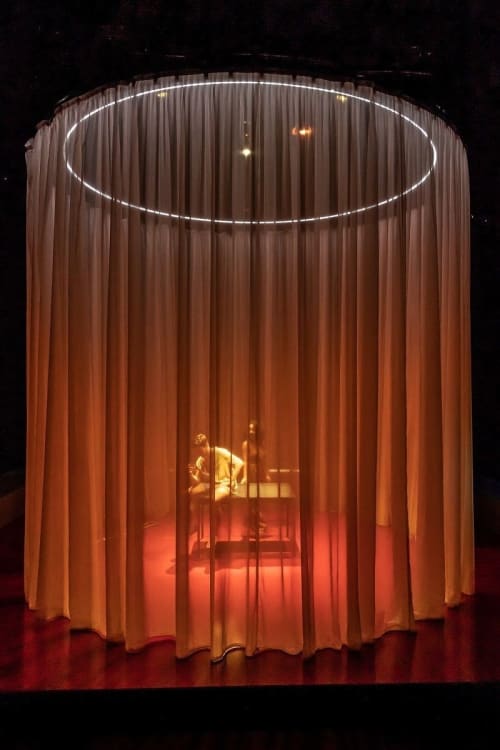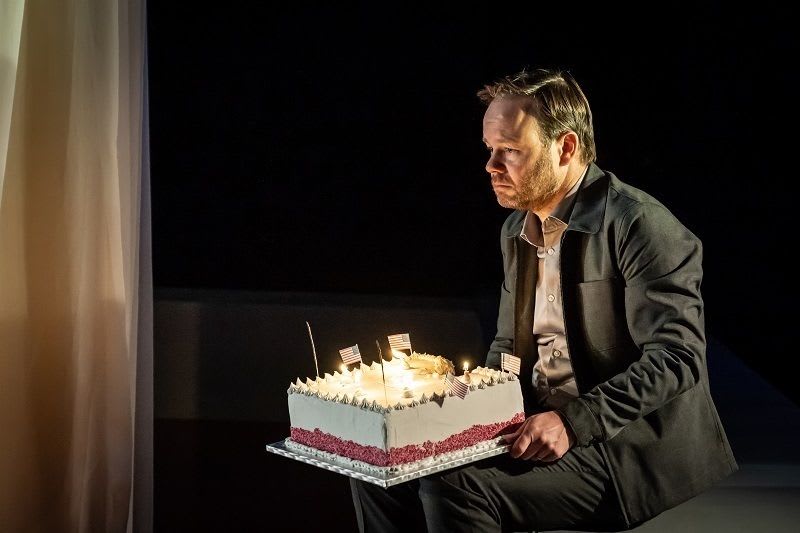 "We talk in circles, we have nothing to say to each other." These words, fired in frustration by different characters during Tennessee Williams's Cat on a Hot Tin Roof, provide a literal reference for the main feature on an otherwise sparse stage in this new production of Williams's 1955 classic which opened this week at Leicester's Curve.
Rosanna Vize's design is simple yet rich with metaphor and symbolism: a large circular frame high above and just off centre-stage is draped with a semi-transparent curtain, a veil of deceit and mendacity. There is a table. Props are a single crutch, whisky glasses and liquor (endless bottles). The stage is edged on three sides by a raised walkway, also serving as occasional seating, but mostly as vantage points for the cast to listen and watch, ghostly in the shadows.
The whole stage space itself gives a sense of a fighting arena, apt for the sparring of Big Daddy, Big Mama, their two sons and scheming wives.
It's Big Daddy's 65th birthday, and the bullish patriarch and his family have gathered at their home to celebrate. Big Daddy (Peter Forbes) has also just learned from doctors he has a clean bill of health, save for his "spastic colon".
The family all know he in fact is terminally ill with cancer. Big Mama (Teresa Banham) appears to be in denial. Favoured son Brick (Oliver Johnstone) nurses a broken ankle, is in a childless and loveless marriage with Maggie (Siena Kelly), and has taken to the bottle over the death of his friend Skipper. Elder son Gooper (Sam Alexander) has five young sons, another baby on the way, yet he and his wife Mae (Shanaya Rafaat) are ignored and scorned by Big Daddy.
Lies and feuds, simmering jealousy, sibling rivalry, greed, unrequited and forbidden love, hate—it's all here as each character tries to assert their claims on Big Daddy's fortune, and satisfy their individual cravings for love, truth and meaning.
Director Anthony Almeida (winner of the 2019 Royal Theatrical Support Trust Sir Peter Hall Director Award) responds confidently to the question as to why revive this play, and why now? He allows the sparsity of Vize's design to provide an unrelenting focus on the family drama at the core of Williams's play. Written in a very different era, these arguments and raw emotions are as relatable now as they ever were.
Kelly's Maggie is a prowling cat of a woman (and the restless cat on the hot tin roof of a marriage she won't leave), sultry and scheming and her frustration with her disinterested husband Brick is painful. Johnstone is a jittery, withdrawn Brick and desperately sad. Similarly, Gooper sits ignored and alone, comfort eating his way through the remains of Big Daddy's birthday cake as Big Daddy and Brick argue. Despite his unpleasantness and bile, Forbes manages to trigger some sympathy for Big Daddy as his vulnerabilities are revealed beneath his brusque exterior.
There are moments of great power and poignancy: when the veil is pulled from the frame, it is used like a shroud, wrapping Brick in a claustrophobic cocoon as Big Mama pulls hard on the umbilical cord of connection between them. Giles Thomas's sound design keeps things on edge with a constant background ticking—Maggie's biological clock and Big Daddy's health.
Curve has joined with English Touring Theatre and Liverpool Everyman Theatre in this production and will tour a further five venues during the autumn. It is compelling and compulsive viewing.
Reviewer: Sally Jack