Cat on a Hot Tin Roof
Tennessee Williams
English Touring Theatre
New Wolsey, Ipswich
–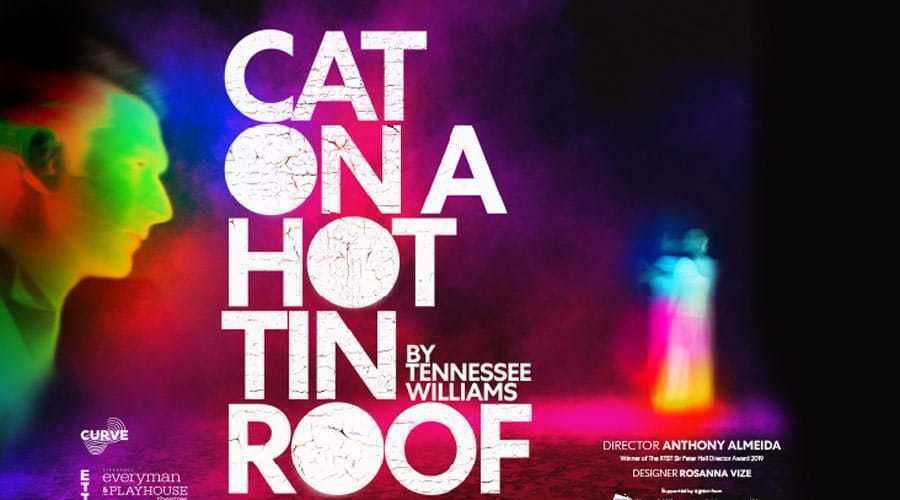 During COVID we have been somewhat starved of classic drama, but English Touring Theatre is here to redress the balance with a first class production of one of Tennessee Williams's best known works.
Williams wrote this play in the early 1950s based on a short story he had previously published. Set in the Mississippi delta over one hot summer evening, it has all his typical characteristics: tense, intimate scenes, layered characters and big themes of betrayal, lies and death. And these are all exploited to the full by this very talented company.
The plot evolves around the Pollitt family as they celebrate the patriarch Big Daddy's 65th birthday, while keeping from him the knowledge that he has terminal cancer. This is what underlines and underpins each of the unravelling relationships that are played out during the production, the surfeit of lies that each character has constructed around it, and the impact it will have on themselves.
The main protagonists—and the main centre of attention in the first half of the play—are younger son Brick, a washed-up alcoholic adrift after losing his football career to injury and the death of his best friend, and his sensuous wife Maggie, with whom he has fallen out of love.
Theirs is a relationship forged in passion and broken on the wheel of disappointment and betrayal and Oliver Johnstone and Siena Kelly play these two flawed characters to perfection. Brick is the perfect balance of the laconic and the hopeless yet concealing a propensity for violent rage. Maggie is teasing, alluring, aware of the power of her body yet unable to break through the barriers Brick has raised up against her. Their chemistry is at times palatable.
Towards the end of the first half, we meet the other members of the family. Older brother Gooper (Sam Alexander), always on the outside of his parents love, married to 'hard as nails' Mae (Shanaya Rafaat), who has produced five children and is expecting a sixth—and both eyeing up what they hope will be their rich reward in the shape of the family estate.
Then there's Big Daddy himself: a brute of a man in every sense who earned his money and position the hard way and has no time for those he thinks of as weak. Played by Peter Forbes revelling in bringing out every drop of his nastiness, this is a fine portrayal of the worst type of bully and misogynist.
The butt of a lot of his diatribe is his long-suffering wife, Big Mamma. She can be played as a match to him, but in this production is played with patient resignation by Teresa Banham, and who was maybe the only actor slightly miscast being rather too young and glamorous for his jibes to really be believed.
The set is as minimal as you can get—just a table in the middle of the stage surrounded at the start by a diaphanous curtain which somewhat obscures the opening scene and does nothing to suggest the sweltering deep south. It was a relief when it was pulled down and the actors given space to flourish.
There are a number of raised levels to give structure but most of the props are mimed and there is very little in the way of costume change. But this does allow the play and the characters to speak for themselves and once the conventions were set it didn't detract.
This is a powerful production with a raw delivery that is at times uncomfortable to watch as it exposes the layers of pain and hurt during intimate exchanges, yet is absorbing and challenging in equal measure. We are eavesdropping on family relationships that are ultimately fractured beyond repair but are as relevant and as emphatic today as when they were written.
There is strong language and adult themes throughout, but this is a well directed production by Anthony Almedia of a superbly written and performed drama that will leave you both shaken and stirred. Well worth seeing.
Reviewer: Suzanne Hawkes