Cathy
Ali Taylor
Cardboard Citizens
Pleasance Dome
–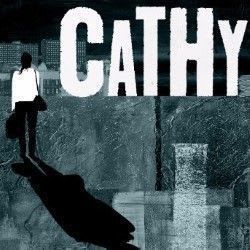 Ali Taylor's play Cathy performed by Cardboard Citizens marks the company's 25th anniversary of creating theatre about the homeless, and fifty years since Ken Loach's film Cathy Come Home was shown on national television.
It opens in the living room of Cathy (Cathy Owen) and her fifteen-year-old daughter Danielle (Hayley Wareham). The landlord, Jake (Alex Jones), is asking Cathy whether she has received his mail. He is also playfully flirting with Danielle.
Cathy has lived on the London estate all her life but her zero hours job cleaning has caused her to fall into rent arrears. Jake knows he can get more from other tenants so he kicks her out with a 14 day Section 21 notice.
What follows is a strange and frustrating journey through the UK's deeply flawed housing system.
She is told that, having a dependent, she is a Section 8 priority and is given a room in Luton that is damp, alive with insects and many miles from Danielle's school.
Months later, she is offered temporary accommodation in a 5th floor flat in Gateshead. It is just before Danielle's exams in London and doesn't guarantee she will be offered anything more permanent for six to seven years.
When she declines Gateshead, she is declared to have made herself "intentionally homeless" and therefore no longer the council's responsibility beyond taking Danielle into Social Services care.
To avoid this, they sleep on sofas and anywhere they can find.
A strong cast of four give a fine, sensitive performance in which each scene is believable, the dialogue always interesting and the characters engaging.
The show concludes with a ten-minute discussion of audience ideas about changing the situation.
It is a shocking and accurate account of the housing catastrophe that is unfolding in many parts of the country. Importantly, it encourages us to do something about it.
Reviewer: Keith Mckenna