Cathy
Ali Taylor
Cardboard Citizens
Soho Theatre
–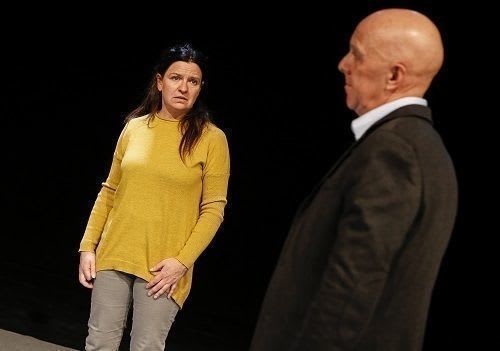 What's the difference between a house and a home? Some may own the bricks and mortar around and above them but the concept of 'home' may prove elusive beneath their eaves. Others may never aspire to, or dream of, mortgages and freeholds, but succeed in creating loving environments in which relationships are nurtured and thrive.
What happens when cultural, political, social and economic forces shape and mis-shape our concepts of houses and homes? Re-visiting and re-imagining Ken Loach's ground-breaking television drama, Cathy Come Home, from the perspective of our twenty-first century, Ali Taylor's Cathy—premièred in 2016 to mark the 50th anniversary of Loach's seminal drama and now showing at the Soho Theatre—asks such questions. And, the answers don't make for comfortable watching.
What, if anything, has changed since Loach's seminal drama? Research by the housing charity Crisis published in March 2017 is stark and distressing. What with inflated house prices, mortgage madness, zero-contract hours, and the depletion of social housing, it's no surprise that Crisis's latest figures showed that 4,134 people slept rough across England on any given night in 2016—a 16% increase compared to the previous year, and more than double the amount in 2010—and that last year 59,090 households were accepted as homeless in England. In Scotland, 28,247 applications were assessed as homeless and in Wales 7,128 households were threatened with homelessness.
But, still, homes can be constructed from not much. Lucy Sierra's set consists of just a few plastic chairs and an initially statuesque Jenga block, upon which audio-visual testimony is projected in-between scenes, providing moving real-life commentary from those whose experiences confirm the truth of what we witness on stage (the play was researched with the support of Shelter). Many of these testimonies were truncated as the drama unfolded: I'd have liked to have heard more of the real-life stories of individual homelessness and institutional heartlessness, of experiences which are so painfully paralleled in Taylor's drama.
In the 'pre-curtain' moments of Adrian Jackson's production, a home is built from these Jenga blocks for Cathy and her fifteen-year-old daughter, Danielle: some drapes, a scented candle and mother-daughter love provide all the structure and sustenance required. Forty-something Cathy, who doesn't "do benefits" and instead holds down several zero-contract hours cleaning jobs, returned to her childhood area ten years ago, when her gambling-addicted husband went his profligate way. Her mother is dead and her father's care home, which her sister seems disinclined to visit, is nearby. Cathy shows compassion and care for her father Reg, and while life is tough, it is steady and stable.
However, walls, both literally and figuratively sturdy, can come tumbling down. Single mothers like Cathy are prey to pernicious landlords in whose eyes pound-signs flash at the thought of high-earning and high-paying professionals—as becomes all too painfully evident in the opening moments, when Cathy and Danielle are visited by estate agent, Jay, who is taking over the portfolio of his benign but elderly mother, and who sees the potential of 700 square foot: "two bed, bathroom, balcony. Attractive views over the communal gardens". Issuing Cathy with a rent-arrears eviction notice, his riposte to her plea, "It's my home", is a ruthless declaration: "No, no. It's my home. You rent it from me."
Thus begins a downwards slide which should make all present realise just how fragile are the strata that keep us in our garrets and out of the gutter.
Cathy Owen communicates every ounce of Cathy's resilience and despair, as an individual and as a mother, her humanity and pain writ large in her smiles, frowns and grimaces. Owen conveys Cathy's resilience and balances defeat with pride. And we appreciate that the latter is both her saviour and her downfall.
Rooted in the environs that she knows, Cathy is first shuttled to a cockroach-infested B&B—"there was no bed. And there definitely weren't no breakfast"—then offered "two-bedroom maisonette in a purpose-built block', with a 'kitchen, living-room, built in cupboards… carpeted throughout. Double glazing". But, the thought of enduring seven years in Gateshead, Newcastle while waiting to be offered permanent accommodation, during which time Danielle will reach 21 thus rendering her housing claim 'not priority', means that Cathy refuses to sign on the dotted line and so is deemed to have made herself and Danielle 'intentionally homeless' thereby enabling council to "relinquish its duty of care".
As Cathy's daughter, Hayley Wareham is a restless, troubled, burning portrait of teenage anger, fear and contempt. This play is as much about the love between a mother and daughter as it is about the circumstances in which they find themselves. Aunt Bex and Hayley's father Glen prove fickle friends, and the fracture of Hayley's relationship with her mother, as depicted with painful poignancy in the final scene, is disturbing and shattering.
The other female and male roles are played by Amy Loughton and Alex Jones respectively. They chillingly convey the cold heart at the core of the Kafkaesque officialdom which defeats Cathy and Hayley, but I suspect that the landlords, housing officers and neighbours they embody are not representative of many who work in the sector, and who are working within heart-breaking constraints and financial cuts.
Loughton is particularly vivid as both Shania, the Thames Wick housing officer who accuses Cathy of having made herself "intentionally homeless", and the Latvian Anja, a Luton nightclub 'hostess' who befriends Cathy, and who makes herself such a "big fucking pain in the arse!" that the council transfer her to a nice pad in Croydon. As bus driver, Karen, Loughton shows some rare human empathy in offering Cathy a cuppa and the use of her mobile.
Cathy was originally presented in a forum theatre format, whereby after the presentation of the text, the audience were invited to revisit the action and intervene, manipulating Cathy's responses and challenging those who belittle and deter her.
At the Soho Theatre, following the 80-minute drama, Loughton asked us for our personal and political responses: what could we do to change things? Filled with frustration and the fury of impotence, it's easy to think that filling flip-charts with "Vote Corbyn" and "have empathy" will change the world. And, undoubtedly, we do all have a responsibility to think and act.
But, I tend to the view that the messages of Taylor's excellent play don't need distilling in this fashion, and are in fact diluted in so doing. As W H Auden wrote, "you cannot tell people what to do, you can only tell them parables; and that is what art really is, particular stories of particular people and experiences, from which each according to his immediate and peculiar needs may draw his own conclusion."
Taylor's play speaks for itself, and loudly. Let's hope those who need to hear are listening.
Reviewer: Claire Seymour