The Cat Who Ran
Story by Naoko Kudo, adapted by Toyoko Nishida and translated by Yuriko Kobayashi
Unicorn Theatre
(2009)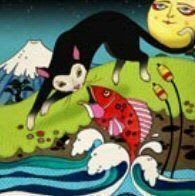 This is pure delight! The theatre recommends it for 5-8 year olds and it's probably not for YouTube and Facebook teens but this adult was totally captivated. It is only on for three weeks so if you have got children or grandchildren, or can borrow some, take them along and give yourself a treat too while you have the chance.
Based on a poem by contemporary Japanese poet Naoko Kudo, this is the story of a kitten called Ran and of all the creatures and things he meets, especially the fish who become his special friend and how that friendship is tested. Ran is the smallest of his litter. A bundle of soft fur with tiny feet who at first seems not so strong or bright, like all the characters he's played by an actor whose charismatic charm soon wins our hearts.
Four actors, singing a song in Japanese that has a pretty tune, lead their audience into the theatre in a lantern procession. When they have settled around the playing space there is a little ritual of welcome in which even the smallest child can participate and they are then invited to make a wish before the storytelling begins.
This is very special story-telling. The narrative passed from actor to actor or sometimes with their voices interweaving and with occasional brief scenes in dialogue. There is no dressing up as animals; these performers simply become a whole range of different creatures from ants to chickens, clouds or trees by assuming their characteristics and stimulating the audience's imagination. They give us the coo-cooing of a turtle dove, the popping of air bubbles from a fish's mouth, the blowing of the wind, play atmospheric music and sometimes burst into song.
It is an intensely physical production and they move with energy and grace whether bounding cats, fluttering birds or stealthy weasel and it is all give the simplest of settings with bamboo and cotton screens and the warmth of lantern light, designed by Adam Carrée. Mark Jones costumes have a street cred that suggests personality but leave the actor free to create each individual character. As well as the scenic materials the Japanese origin of the tale is also reflected in the use of an hyoshi-gi clapper from Kabuki theatre to mark out the end of scenes, an origami ball that when thrown in the air and struck become a shower of autumn leaves and a litter of keno fighting kittens while the lanterns give a hint of a nebuta procession..
Amit Sharma, who is also the assistant director, was a totally engaging Ran in the performance I saw, taking over at short notice from an indisposed Géhane Strehler who it is hoped will return to playing him later in the run. Among their multiple roles David Smith, who also composed the music and designed the sound, is a most effective mother hen, Samantha Adams a scurrying ant, and John Cockerill the little fish who wants to be a big gold carp. They bring great skill and imagination to the way in which they suggest all their characters but these are not just individual creations, this is truly the work of an ensemble. Director Tony Graham has drawn magnificent performances from them and devised an entertainment that when the characters are faced with a dilemma has solved it with a piece of typically Japanese symbolism that ensures its young audience are offered a happy ending. This is a production that deserves a long stay in the Unicorn's repertoire.
Until 8th March 2009
Reviewer: Howard Loxton