Cats
Andrew Lloyd-Webber
Opera House, Manchester
–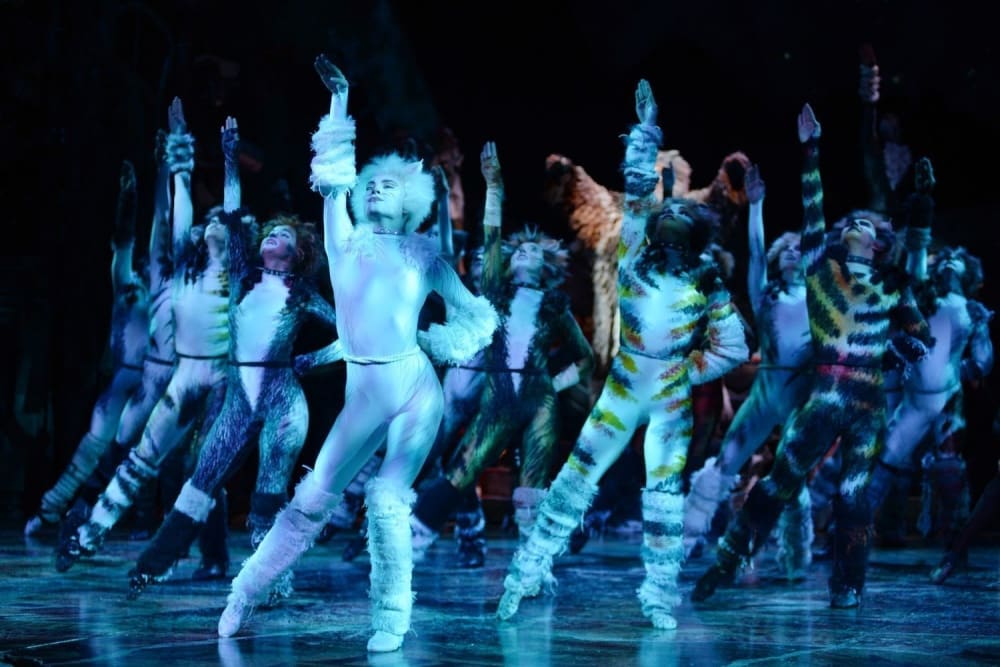 Andrew Lloyd-Webber's iconic, record-breaking musical returns to Manchester on its first UK tour since its revival in 2014.
On paper, Cats shouldn't be such a success. It has no clearly defined narrative and the song lyrics taken from T S Eliot's poetry collection Old Possum's Book of Practical Cats are inventive, complex and part nonsense verse. It's also a very surreal viewing experience, with cats singing operatic duets, performing magic tricks and dressing up as dogs to re-enact battles.
Another factor that could have negatively affected Cats' popularity is its high proportion of dance content, so much so that at times it's like watching a ballet with songs in. Gillian Lynne's choreography perfectly recreates feline grace, athleticism and flexibility—there must be more high kicks in this musical than any other.
The signature jazz style is varied with other genres, including a tap number that could be straight from an old Hollywood musical ("The Old Gumbie Cat") and the breakdance stylings of a revamped Rum Tum Tugger. Unfortunately, the size of the Opera House stage restricts whole ensemble numbers, which look rather cramped, but overall the dancing standard is high.
The cast of cats sketched out in song—from obese restaurant-goer Bustopher Jones to bustling railway cat Skimbleshanks and mischievous double act Mungojerrie and Rumpelteazer—combine recognisable human and feline traits to form light-hearted character portraits. This comedy is offset by the menacing presence of Macavity and the tragic outsider Grizabella. Anita Louise Combe puts in an excellent performance as the former glamour cat, edging vulnerably across the stage in her heels and singing "Memory" with raw emotional power.
Having originally been staged in the round at the New London Theatre, it was unclear how the show would translate to a proscenium arch stage. The interaction with the audience so key to Cats is still there, however, as the action is extended to include the theatre aisles and even the boxes.
David Hersey's impressive lighting design adds to the atmospheric magic of the show—long strings of coloured lights extend across the auditorium and cover the audience like a tent, while spotlighting creates midnight shadows and the opening sees dozens of cats' eyes glowing in the dark backdrop. John Napier's junkyard set features oversized food packaging, a car boot hiding place and a bedstead climbing frame—it's clever, but never overshadows the cast.
Lloyd Webber's score is brought to life by a live orchestra, but occasionally there are issues with sound balance and it becomes hard to hear cast vocals, meaning some of Eliot's wonderful verse is lost.
Nonetheless, Cats is still as thrilling and magical as it was when it was first staged over thirty years ago. In spite of its age and record success, it remains unique in the world of musicals—which hopefully means that it will be around for at least thirty more years.
Reviewer: Georgina Wells