Cats
Music by Andrew Lloyd Webber, based on Old Possum's Book of Practical Cats by T S Eliot
The Opera House, Manchester, and touring
(2007)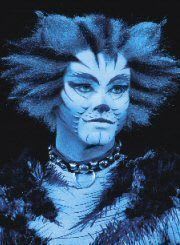 While he is busy promoting a revival of his forty-year-old Joseph and the Amazing Technicolor Dreamcoat on television every Saturday night, Lord Andrew Lloyd Webber's relatively youthful 26-year-old Cats is touring the UK, and this week it arrived in Manchester.
Cats is based on TS Eliot's wonderful collection of comic poems about a group of cats with human-like personalities, Old Possum's Book of Practical Cats, published in 1939, and Eliot's original words form the majority of the libretto. Because of this, there is no story running through the show as it a collection of character descriptions, although there is an attempt to introduce some plot thread by bringing in the character of Grizabella between stories singing of her 'Memory' and foreshadowing the arrival of the villainous Macavity and creating a conflict between him and Munkustrap.
Eliot's verses are wonderfully evocative of colourful characters such as Macavity, Rum Tum Tugger, Old Deuteronomy, Gus the theatre cat, Mr Mistoffelees and others, and Webber has done a reasonable job of fitting music to words that were never intended to be sung, although some songs are more interesting than others. Webber's incorporation of popular musical ideas in this show includes some very distinctive sounds of early 80s synthesisers, which now sound quaint and a bit thin and never really had the gravity to introduce an exciting piece of theatre.
The wonderfully imaginative staging by Trevor Nunn and choreographer Gillian Lynne, despite looking a little squashed in the proscenium stage of the Opera House, brings lots of movement and life to the stories and uses oversized props from John Napier's brilliant design in clever ways, such as the use of shoe boxes and yoghurt pots to turn the cats into dogs in 'The Awefull Battle of the Pekes and the Pollicles'. However the staging does not recreate everything that the poems say (why should they when the words are there?) and so it is important to hear the words to understand what is happening. Here the sound system sometimes lets us down, despite the excellent diction of the performers, as its rather thin sound works best in the quiet solos but becomes rather muddied when the whole chorus is singing and the orchestra sometimes drowns out the words when it really kicks in.
The mostly very young cast is made up of talented, hard-working singers and dancers who certainly give their all on stage, although there is no one that stands out as injecting real life and personality into any of the roles rather than copying moves that have been played by dozens of performers before them. Having said that, there are certainly some creditable performances, including those of Zak Nemorin and Joanne McShane as mischievous duo Mungojerrie and Rumpleteazer, Matthew Gould as Skimbleshanks, James Paterson's rich operatic tones as Old Deuteronomy, Dean Maynard as sometimes-narrator Munkustrap and Patrick Clancy as Gus and a few other parts. Grizabella actor Chrissie Hammond has an incredibly powerful voice in her rendition of 'Memory' that drives the sound system into distortion.
After more than a quarter of a century, Cats is still popular enough to sell out large theatres like the Opera House. The lack of a story, while not a bad thing in itself, does make it difficult to keep the attention for the whole of the long running time, but the slick staging, beautiful design and energetic performances still make this an entertaining piece of popular musical theatre.
John Johnson reviewed this production at the Derngate, Northampton
Reviewer: David Chadderton