Cats
Music by Andrew Lloyd Webber based on Old Possum's Book of Practical Cats by T.S. Eliot
A Really Useful Theatre Group Production
Theatre Royal, Newcastle, and touring
(2008)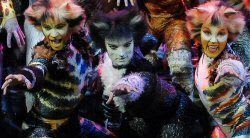 Cats is playing at the Theatre Royal until 16th February - that's for three weeks all but a day, eight shows a week - and it's virtually sold out. For a show that first saw the stage in 1981 and has been playing throughout the world ever since, that's a sure indication of its popularity. It doesn't really have a plot either: after all, it's a series of poems by T. S. Eliot set to music and although some attempt has been made to create a kind of storyline, it's not central to the piece. It's song and it's dance and that's it really, but it's none the worse for that.
I've lost count of the number of times I've seen it - let's say a round half-dozen - and I still enjoy it, but perhaps it's made me a bit picky. The make-up seems to have been simplified, which is a bit sad, but the acrobatic dance remains - Mungojerrie and Rumpleteazer still do their joined-at-the-hip double cartwheels across the stage and that still brings gasps of admiration from the audience. The Battle of the Pekes and Pollicles is still there and I've always found it the weakest part of the show. I found Mr Mistoffelees less magical than I remembered - but this is not, I hasten to add, a comment on the performance of Trevor Schoonraad, who was excellent. I simply seem to remember more magic.
On the other hand, Macavity did seem to be more threatening. Swings and roundabouts?
What does stand out is that there seems to be a more overt sexiness, and I'm not talking here about the Rum Tum Tugger who has always been blatantly (and funnily) sexual. I have the impression that the support Cats in the ensemble used to have more individual characters whereas now they are more sexual. Or, of course, I may be becoming a dirty old man.
We had an understudy as Grizabella on press night, Zoë Smith, and very well she did, too.
What struck me as never before is the distance between the world of Eliot's cats (1930s middle class London) and today: the cats' names that "the family use daily", spats, the area, the completely different connotations of clubs - one does wonder what modern kids make of it.
But I am afraid I still have one significant nit to pick: whether it was due to the sound system not being completely adjusted to the Royal's acoustic (it was the second night) or to the singers' diction, words were sometimes not at all clear in the chorus numbers. Generally soloists were fine. And the words are important. This is poetry, a lightweight form, agreed, but poetry nonetheless and the words deserve to be heard. For example, we got "Up, up, up to the Heaviside Lay", the final "er" being lost, not once but throughout the song.
But this is comparatively minor, for Cats is still great fun and this cast and production are worthy successors to the numerous others I have seen over the past twenty-odd years.
Reviewer: Peter Lathan