Cat's Cradle
Kurt Vonnegut, adapted by Miracle Theatre Company
Courtyard Theatre, Hoxton
(2009)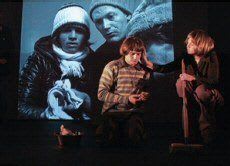 Dramatising a novelist as frantically smart and formally playful as Kurt Vonnegut is no easy task. Perhaps this is why it has only been attempted once, in Pittsburgh in '76. Cat's Cradle, published in 1963, meshes anarchism, anthropology and farce as it outlines the dangers the world faces when science starts to bite off more than it can chew.
Miracle Theatre - Cornwall's finest troupe - display brave and skilled dramaturgy in bringing this book to the stage. The convoluted and unusual narrative methods of Vonnegut are cleverly handled by using snippets of projected flashbacks and classroom-like explanations to elucidate plot details and help make sense of the text's unique pseudo-science lexicon.
The adroit employment of multimedia is matched by the acting. There are some exquisite performances: Ben Dyson as the Brit journalist sent to San Lorenzo to investigate the sketchy philanthropy of an ex-pat; Dominic Power (who also directs) excels in a number of roles including the under-scrutiny ex-pat Julian Castle and a beleaguered US ambassador none too amused with the latest cabinet reshuffle; and Dan Richards as Newt Hoenikker, the squealing son of an atom-breaking, apocalyptic scientist, whose research has occasioned quite a furore.
San Lorenzo's dictator is rogue and looks like a squashed and muddied hot-dog. Crucial scientific matter lies is in the hands of an 8ft woman and her kid brother. The James Bond of the story - reporter John MacGuinness - has his eye as much on the dictator's daughter as he does the issue at hand - preventing a nuclear ice-age that will paralyse the world. The future does not seem orange.
The tone of the piece may be outlandish and manic but the prophetic warnings that it carries are serious and intelligent. Man's relationship with science walks the narrowest tightrope conceivable - the slightest of errors are costly. Furthermore, the proliferation of destructive capacity is something we were reminded of only last week with North Korea's alleged testing of a nuclear missile delivery rocket.
Cat's Cradle is a jocular and rewarding production which will have you laughing and scratching your head, often at the same time.
Lucy Ribchester reviewed this production in Bristol in 2008
Reviewer: Ben Aitken