Cavalleria Rusticana and Pagliacci
Pietro Mascagni & Ruggero Leoncavallo
Teatro Municipale Valli di Emilia with Teatro Communale di Bologna and Grand-Theatre de Geneve
Teatro Municipale Valli di Emilia
From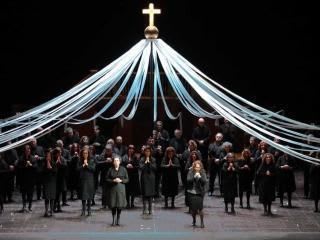 Pietro Mascagni's Cavalleria Rusticana and Ruggero Leoncavallo's Pagliacci, born two years apart yet as inseparable as Siamese twins, are the most famous double-bill in the operatic repertoire. These two realistic one-act working class crimes passionels share a common theme of love, betrayal and murder.
Mascagni never repeated the success he had with Cavalleria Rusticana in 1890 when he was 27 years old. He took 60 curtain calls. The opera, based on a short story by Giovanni Varga, is a slice of realistic peasant life. The libretto is by Giovanni Targioni-Tozetti and Guido Menasci.
Emma Dante's 2021 production is streamed live from Teatro Municipale Valli di Emilia in Italy. Santuzza (Sonia Ganassi), unmarried and pregnant, has been excommunicated by the Church. Her lover, Turriddu (Angelo Villari), has ditched her in favour of his former mistress, Lola. Santuzza tells Alfio (Stefano Meo), who is married to Lola, that Turiddu is having an affair with his wife.
The Sicilian peasants take adultery very seriously. There is no mercy, only vengeance. The action takes place over Easter and begins with a Christ-figure, weighed down by the cross he is carrying, collapsing on stage. The emotions are big and the opera carries a terrific punch.
Ganassi, inconsolable, in particular, has some powerful moments when she is begging Turiddu not to leave her. The music and the singers have more verismo than the production, which is never rustic enough.
Leoncavallo never again repeated the success he had with Pagliacci in 1892; but he and Mascagni continue to survive together worldwide.
Canio (Steffano La Colla) warns his wife Nedda (Carmen Solis) that if he ever finds she is unfaithful he will kill her. She is in love with Silvio (Vincenzo Nizzardo) who wants her to elope with him. They are all members of a commedia dell'arte troupe.
Canio plays Pagliacci to Nedda's Columbine. The roles they play on-stage and the people they are in real life become indivisible. A performance, which begins in farce, ends in horror with two people dead.
The production is directed by Serena Sinigaglia in artificial long grass which is carried on by the stagehands during the overture and prologue. I never for one or one moment believed that Nizzardo was in love with Solis or vice versa. I believed totally Tonio (Steffano Meo), the hunchback member of the company, would be capable of raping Santuzza.
Frederick Chaslin conducts both operas. I enjoyed Cavalliera Rusticana much more than I did Pagliacci. Mascagni and his singers had far greater musical impact than Leoncavallo and his singers.
Reviewer: Robert Tanitch